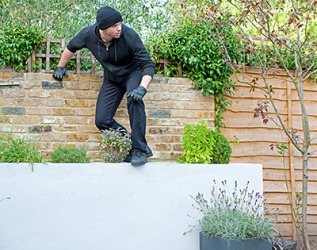 The burglar skulks around the property first to determine if anyone is home before trying to break in.
verb
To skulk is to try to keep out of sight, moving around in the shadows or otherwise trying not to be noticed.

An example of skulk is when you sneak in late and you try to come in quietly so no one notices.
---
skulk
to move or lurk about in a stealthy, craven, or sinister manner; slink

Chiefly Brit.

to avoid work or responsibility; shirk; malinger
Origin of skulk
Middle English
sculken
, probably from Low German
schulken
, to play truant, or Danish
skulke
, to skulk
a person who skulks

Obs.

a pack (of foxes)
---
skulk
intransitive verb
skulked, skulk·ing, skulks
To lie in hiding, as out of cowardice or bad conscience; lurk.
To move about stealthily.
To evade work or obligation; shirk.
noun
A group of foxes.
Origin of skulk
Middle English
skulken
of Scandinavian origin
Related Forms:
---
skulk

Verb
(third-person singular simple present skulks, present participle skulking, simple past and past participle skulked)
to sneak around, sneak about
to shirk; to avoid obligation
Origin
From Middle English skulken, of North Germanic origin, cf. Danish skulke ("shirk").
---