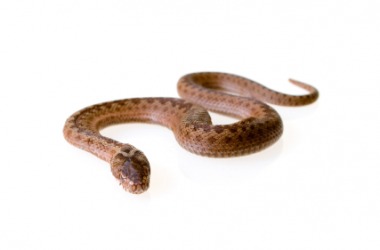 A common adder snake
noun
The definition of a snake is a long reptile that has no limbs or eyelids, or a cold and ruthless person, or a long and skinny wire that can be used to clean out a drain.

A boa constrictor is an example of a snake.
A cold and heartless man is an example of a snake.
A long wire your plumber puts down your drain to unclog it is an example of a snake.
verb
Snake is to move or extend along in a slithering or twisting motion, often to clear drain obstructions.

When a cable is twisted and pulled through a drain pipe, this is an example of a time when you snake the pipe.
---
snake
any of a limbless suborder (Serpentes, order Squamata) of reptiles with an elongated, scaly body, lidless eyes, and a tapering tail: some species have a poisonous bite
a treacherous or deceitful person
a plumber's tool consisting of a long, sturdy, very flexible wire or cable, used to remove obstructions from pipes, etc.
Origin of snake
Middle English from Old English
snaca
, akin to Old Norse
snakr
, Middle Low German
snake
: for Indo-European base see snail
intransitive verb
snaked

,

snak′ing
to move, curve, twist, or turn like a snake
to clear obstructions from (a pipe, drain, etc.) by means of a snake (noun)

Informal

to drag or pull, esp. lengthwise and with force

Informal

to pull quickly
---
snake
noun
Any of numerous scaly, legless, sometimes venomous squamate reptiles of the suborder Serpentes (or Ophidia), having a long, tapering, cylindrical body and flexible jaws.
A treacherous person. Also called snake in the grass .
A long, highly flexible metal wire or coil used for cleaning drains. Also called plumber's snake .
verb
snaked, snak·ing, snakes
verb
transitive
To drag or pull lengthwise, especially to drag with a rope or chain.
To pull with quick jerks.
To move in a sinuous or gliding manner: tried to snake the rope along the ledge.
verb
intransitive
To move with a sinuous motion: The river snakes through the valley.
Origin of snake
Middle English
from
Old English
snaca
Snake
noun
pl.
Snake,
or
Snakes
Snake
---
snake

Verb
(third-person singular simple present snakes, present participle snaking, simple past and past participle snaked)
(intransitive) To follow or move in a winding route.

The path snaked through the forest.

The river snakes through the valley.

(Australia, slang) To steal slyly.

He snaked my DVD!

To clean using a plumbing snake.
(US, informal) To drag or draw, as a snake from a hole; often with out.

(nautical) To wind round spirally, as a large rope with a smaller, or with cord, the small rope lying in the spaces between the strands of the large one; to worm.
Origin
From Middle English snāke, from Old English snaca ("snake, serpent, reptile"), from Proto-Germanic *snakô (compare dialectal German Schnake ("adder"), dialectal Low German Snaak ("snake"), Swedish snok ("grass snake")), from *snakanan 'to crawl' (compare Old High German snahhan), from Proto-Indo-European *snag-, *sneg- 'to crawl; a creeping thing' (compare Sanskrit नाग (nāga, "snake")).
Proper noun
(video games) An early computer game, later popular on mobile phones, in which the player attempts to manoeuvre a perpetually growing snake so as to collect food items and avoid colliding with walls or the snake's tail.
---