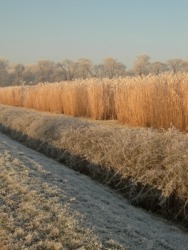 A frost covered berm by a field.
noun
The definition of a berm is a piece of land that is flat and narrow and typically beside a body of water, or a man-made hill or dike.

An example of a berm is a strip of flat land on which you can sit next to a river.
An example of a berm are the trenches dug and used by the military in World War II.
---
berm
a ledge or space between the ditch and parapet in a fortification

Dial.

the shoulder of a road
a narrow ledge or path as at the top or bottom of a slope, or along a beach
a wall or mound of earth
Origin of berm
French
berme
and Dutch
berm
from Middle Dutch
baerm
: for Indo-European base see broom
---
berm
noun
a. A narrow ledge or shelf, as along the top or bottom of a slope.

b. Pennsylvania, Ohio, Indiana, & West Virginia The shoulder of a road.

c. A raised bank or path, especially the bank of a canal opposite the towpath.

A nearly horizontal or landward-sloping portion of a beach, formed by the deposition of sediment by storm waves.
A mound or bank of earth, used especially as a barrier or to provide insulation.
The flat space between the edge of a ditch and the base of a fortification.
transitive verb
bermed, berm·ing, berms
To provide with a berm or berms.
Origin of berm
French
berme
from
Dutch
berm
from
Middle Dutch
bærm, berme
---
berm

Verb
(third-person singular simple present berms, present participle berming, simple past and past participle bermed)
To provide something with a berm
Origin
From French berme, from Middle Dutch barm ("berm") (Modern Dutch berm), cognate of English brim.
Proper noun
(law) Abbreviation of Bermuda.
Usage notes
This is the customary abbreviation of this term as used in case citations. See, e.g., The Bluebook: A Uniform System of Citation, Nineteenth Edition (2010), "Geographical Terms: Foreign countries and regions", Table T10.3, p. 438-443.
See also:
berm
---