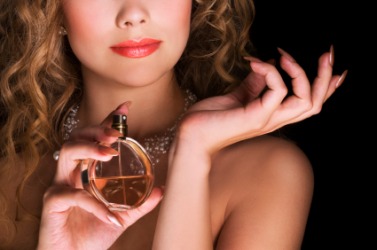 Scent is the smell of perfume.
noun
The definition of a scent is an odor.

The smell of a perfume is an example of scent.
The distinctive smell that a person has that a dog can track is an example of that person's scent.
Evidence that leads police to find a killer is an example of a scent that the police follow.
verb
Scent is to make something smell a certain way or to determine something based on smell.

When you spray your pillow with lavender, this is an example of a situation where you scent your pillow.
When a dog finds drugs by using his nose, this is an example of a situation where a dog scents drugs.
---
scent
to smell; perceive by the olfactory sense
to get a hint or inkling of; suspect: to scent trouble
to fill with an odor; give fragrance to; perfume
Origin of scent
Middle English
senten
from Old French
sentir
from Classical Latin
sentire
, to feel: see send
to hunt by the sense of smell
a smell; odor
the sense of smell
a manufactured fluid preparation used to give fragrance; perfume
an odor left by an animal, by which it is tracked in hunting
a track followed in hunting
any clue by which something is followed or detected
an intuitive capacity for discovering or detecting: a scent for news
---
scent
noun
A perfume: an expensive French scent.
An odor left by the passing of an animal.
The trail of a hunted animal or fugitive: The hounds are on the scent.
The sense of smell: a bear's keen scent.
A hint of something imminent; a suggestion: caught the scent of a reconciliation.
verb
scent·ed, scent·ing, scents
verb
transitive
To perceive or identify by the sense of smell: dogs scenting their prey.
To suspect or detect: scented danger.
To fill with a pleasant odor; perfume: when blossoms scent the air.
verb
intransitive
To hunt prey by means of the sense of smell. Used of hounds.
Origin of scent
Middle English
sent
from
senten
to scent
from
Old French
sentir
from
Latin
sentīre
to feel
; see
sent-
in Indo-European roots.
Related Forms:
---
scent

Noun
(plural scents)
An odour left by an animal that may be used for tracing.

The dogs lost the scent.

The sense of smell.

I believe the bloodhound has the best scent of all dogs.

A perfume.
Usage notes
Almost always applied to agreeable odors (fragrances).
Verb
(third-person singular simple present scents, present participle scenting, simple past and past participle scented)
to detect the scent of

The hounds scented the fox in the woods.

to impart an odour to

Scent the air with burning sage before you begin your meditation.

To have a smell.
To hunt animals by means of the sense of smell.
---