nose

nose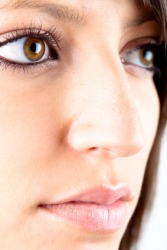 A womans nose, or beezer.
noun
Nose is the part of the face used for breathing and smelling, or the ability to detect something.

An example of the nose is how people smell freshly baked bread.
An example of a nose is the ability to sniff out the best steaks.
verb
Nose is defined as to find by the sense of smell.

An example of to nose is for a dog to find drugs by smelling the area.
---
nose
the part of the human face between the mouth and the eyes, having two openings and cavities behind them for breathing and smelling
the part that corresponds to this in animals; snout, muzzle, etc.
the sense of smell
the overall smell of a wine; bouquet
the power of tracking or perceiving by or as if by scent: a nose for news
anything resembling a nose in shape or position; projecting or foremost part, as a nozzle, spout, prow of a ship, front of an airplane, etc.
the nose regarded as a symbol of prying or meddling: to poke one's nose into another's affairs

Slang, Chiefly Brit.

a police spy or informer
Origin of nose
Middle English from Old English
nosu
, akin to German
nase
, origin, originally a dual, meaning "the two nostrils" from Indo-European base an unverified form
nas-
, nostril from source Sanskrit
n?s?
, the nose, literally , pair of nostrils, Classical Latin
nasus
, nose and
naris
(pl.
nares
), nostril
transitive verb
nosed

,

nos′ing
to discover or perceive by or as if by the sense of smell
to touch or rub with the nose
to push with the nose: with aside, open, etc.
to make or push (a way, etc.) cautiously or slowly with the front forward: the ship nosed its way into the harbor
to smell; sniff
to pry inquisitively
to move cautiously or slowly with the front end forward
by a nose
by the length of the animal's nose in horse racing, etc.
by a very small margin
count noses
Informal
to count the number of people present, voting, etc.
cut off one's nose to spite one's face
to injure one's own interests, as in a fit of anger or resentment
have one's nose out of joint
Informal
to be irritated, annoyed, frustrated, etc.
lead by the nose
Informal
to dominate completely
look down one's nose at
Informal
to be disdainful of
nose out
to defeat by a very small margin
to discover, as by smelling
nose over
to turn over on its nose: said of an airplane moving along the ground
on the nose
Slang
that (a specified horse, etc.) will finish first in a race
precisely; exactly
pay through the nose
Informal
to pay an unreasonable price
put someone's nose out of joint
Informal
to irritate, annoy, frustrate, etc.
rub someone's nose in
Origin of nose
from the practice, in housebreaking a pet, of rubbing its nose in its urine or feces
Informal
to keep reminding someone of (something unpleasant, as a mistake he or she made)
turn up one's nose at
Informal
to sneer at; scorn
---
nose
noun
The part of the human face or the forward part of the head of other vertebrates that contains the nostrils and organs of smell and forms the beginning of the respiratory tract.
The sense of smell: a dog with a good nose.
The ability to detect, sense, or discover as if by smell: has a nose for gossip.
The characteristic smell of a wine or liqueur; bouquet.
Informal The nose considered as a symbol of prying: Keep your nose out of my business.
Something, such as the forward end of an aircraft, rocket, or submarine, that resembles a nose in shape or position.
A very short distance or narrow margin: won the race by a nose.
verb
nosed, nos·ing, nos·es
verb
transitive
To find out by or as if by smell: nosed out the thieves' hiding place.
To touch with the nose; nuzzle.
To move, push, or make with or as if with the nose.
To advance the forward part of cautiously: nosed the car into the flow of traffic.
verb
intransitive
To smell or sniff.
Informal To search or inquire meddlesomely; snoop or pry: nosing around looking for opportunities.
To advance with caution: The ship nosed into its berth.
Phrasal Verbs:
nose out
To defeat by a narrow margin.
Origin of nose
Middle English
from
Old English
nosu
; see
nas-
in Indo-European roots.
---
nose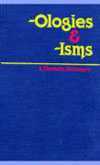 See also anatomy; body, human; facial features.
epistaxis
bleeding from the nose; nosebleed.
nasology
a scientific study of the nose. —
nasologist,

n.
—
nasological,

adj.
nasoscope
an electrically lighted instrument for examining the nasal cavities. —
nasoscopic,

adj.
noseology
the analysis of character and intelligence by studying the physical characteristics of the nose. —
noseological,

adj.
rhinitis
irritation of the nose, especially of the mucous membrane lining it.
rhinology
the branch of medical science that studies the nose and its diseases.
—rhinologist,

n.

—rhinologic, rhinological,

adj.
---
nose

Noun
(plural noses)
A protuberance on the face housing the nostrils, which are used to breathe or smell.

She has a cold in the nose.

A snout, the nose of an animal.
The tip of an object.

the nose of a tea-kettle, a bellows, or a fighter plane

(horse racing) The length of a horse's nose, used to indicate the distance between horses at the finish of a race, or any very close race.

Red Rum only won by a nose.

The power of smelling.
Bouquet, the smell of something, especially wine.
The skill in recognising bouquet.

It is essential that a winetaster develops a good nose.

(by extension) Skill at finding information.

A successful reporter has a nose for news.
Verb
(third-person singular simple present noses, present participle nosing, simple past and past participle nosed)
Origin
From Middle English nose, from Old English nosu, from Proto-Germanic *nusō (compare West Frisian noas, Dutch neus, Norwegian nos "˜snout'), variant of *nasō (compare German Low German Nees, Nes, Näs, German Nase, Norwegian nese "˜nose'), old dual from Proto-Indo-European *néhâ''s- ~ *nhâ''es- "˜nose, nostril' (compare Latin nāris "˜nostril', nāsus "˜nose', Lithuanian nósis, Russian нос (nos), Sanskrit नासा (nā́sā) "˜nostrils').
---