noun
The definition of a bouquet is an attractively arranged bunch of flowers often given as a gift or carried by a bride or bridesmaids.

A dozen roses tied neatly at the bottom with a string and carried by a bride is an example of a bouquet.
YourDictionary definition and usage example. Copyright © 2013 by LoveToKnow Corp.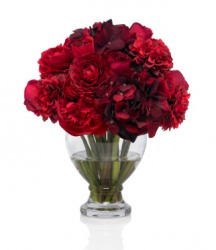 A bouquet of red flowers in a vase.
Licensed from iStockPhoto
---
noun
a bunch of cut flowers
a fragrant smell or aroma; esp., the characteristic aroma of a wine or brandy
Origin: French a plume, nosegay, older bosquet ; from Old French boschet: see bosket
Webster's New World College Dictionary
Copyright © 2010 by Wiley Publishing, Inc., Cleveland, Ohio.
Used by arrangement with John Wiley & Sons, Inc.
---
noun
A small cluster or arrangement of flowers.
The fragrance typical of a wine or liqueur. See Synonyms at fragrance.
Origin: French, from Old French bosquet, thicket, diminutive of bosc, forest, of Germanic origin.
The American Heritage® Dictionary of the English Language
, 4th edition Copyright © 2010 by Houghton Mifflin Harcourt Publishing Company. Published by Houghton Mifflin Harcourt Publishing Company. All rights reserved.