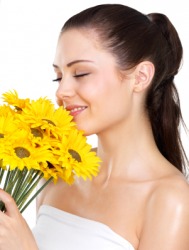 A woman enjoys the fragrance of her flowers.
noun
The definition of a fragrance is an aroma, especially one that is pleasant, or a substance which gives a pleasant aroma such as a perfume, cologne or after-shave.

The scent of roses on a spring day is an example of a fragrance.
A type of perfume by Ralph Lauren or Armani is an example of a fragrance.
---
fragrance
the quality of being fragrant
a sweet smell; pleasant odor
Origin of fragrance
Classical Latin
fragrantia
---
fragrance
noun
a. The quality of having a pleasant odor: the fragrance of the ocean breeze.

b. A sweet or pleasant odor; a scent.

A substance, such as a perfume or cologne, designed to emit a pleasant odor.
---
fragrance

---