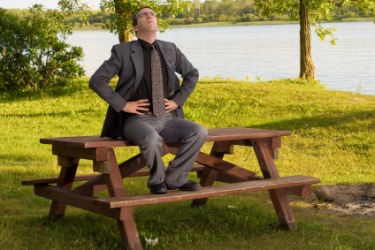 A man takes in a breath of fresh air.
noun
The definition of breath is the inhalation and exhalation of air into or out of the lungs.

An example of breath is when you take in air.
---
breath
air taken into the lungs and then let out
the act of breathing; respiration
the power to breathe easily and naturally: to get one's breath back
life or spirit
air or vapor given off from anything
air carrying fragrance or odor
a puff or whiff, as of air; slight breeze
moisture produced by a condensing of the breath, as in cold air
an utterance, esp. in a low voice; whisper or murmur

a single respiration
the time taken for this; a moment

a slight pause or rest
a faint hint or indication

Phonet.

a voiceless exhalation of the airstream with relative stillness at the vocal cords, as in pronouncing (s) or (p)
Origin of breath
Middle English
breth
from Old English
bræth,
odor, exhalation from Indo-European base an unverified form
bher-,
well up from source ferment, barm, brood
catch one's breath
to gasp
to return to normal breathing after exertion

Informal

to rest or pause
out of breath
breathless, as from exertion
save one's breath
Informal
to refrain from talking when talk would be useless
take someone's breath away
to strike someone with awe; thrill or dumbfound
---
breath
noun
a. The act or process of breathing; respiration: swam down to the reef, holding his breath.

b. A single act of breathing: Take a deep breath.

a. The air inhaled and exhaled in respiration: as long as there is breath in my lungs.

b. Air that is exhaled, as evidenced by vapor or odor: It's so cold you can see your breath.

The capacity to breathe, especially in a natural and unlabored manner: suffering from shortness of breath.
Spirit or vitality: colors that lend breath to his paintings.
A momentary pause or rest: If I could have a breath before I go on.
A momentary stirring of air: Not a breath of air stirred the leaves.
A softly spoken sound; a whisper: There was hardly a breath of protest.
Linguistics Exhalation of air without vibration of the vocal cords, as in the articulation of p and s.
Origin of breath
Middle English
breth
from
Old English
brǣth
; see
gwhrē-
in Indo-European roots.
---
breath

Noun
(countable and uncountable, plural breaths)
Origin
From Middle English breeth, breth, from Old English brǣþ ("odor, scent, stink, exhalation, vapor"), from Proto-Germanic *brēþiz ("vapour, waft, exhalation, breath"), from Proto-Indo-European *bʰrē-t- ("exhalation from heat; steam"), from Proto-Indo-European *bʰer- ("to seethe, toss about, cook"). Cognate with Scots breth, breith ("breath"), German Brodem ("steam, vapour, fume, odour"). Related also to Icelandic bráður ("hasty, hurried, excited, rash"). More at brath.
---