fingerprint
fin·ger·print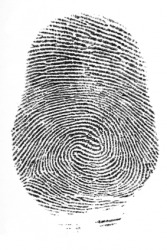 An image of a fngerprint.
noun
The definition of a fingerprint is the mark made on the surface of something by the curves and indentations of the finger tips.

Types of Fingerprints

Latent - When a person touches some sort of object, some of the moisture from their hand is deposited onto that object.
Plastic - If an individual touches materials such as clay, tar, or paint, their fingerprints will be retained in these substances.
Patent - The person gets oil, blood, paint, and so forth on his or her hands. Once the hands touch some other sort of material, the fingerprint is translated onto that material.

An example of a fingerprint is the mark left on a glass used by someone after they have eaten greasy french fries.
verb
Fingerprint is defined as to capture an impression of the marks left by the raised curves of a person's finger tips.

An example of fingerprint is someone being arrested and having ink put on their finger tips and then pressed onto paper.
---
fingerprint
an impression of the lines and whorls on the inner surface of the end joint of the finger, used as by the police in the identification of a person
any characteristic or set of characteristics that distinguishes or unambiguously identifies a person or thing; signature
to take the fingerprints of
---
fingerprint
noun
a. A mark left on a surface by a person's fingertip.

b. An image of the ridges on a person's fingertip made by putting ink on the fingertip and pressing it against a surface or by using a digital scanning device.

A distinctive or identifying mark or characteristic: "We can, from his retelling

[of the incident]

, with its particular fingerprint of stresses and omissions, learn a great deal about him" ( Mark Slouka )

b. A chemical fingerprint.
transitive verb
fin·ger·print·ed, fin·ger·print·ing, fin·ger·prints
To take the fingerprints of.
---
fingerprint

Noun
(plural fingerprints)
The patterns left on surfaces where uncovered fingertips have touched.
(computing) Unique identification for public key in asymmetric cryptosystem.
Verb
(third-person singular simple present fingerprints, present participle fingerprinting, simple past and past participle fingerprinted)
To take somebody's fingerprints.

The jail staff fingerprints its 'guests' routinely
---
fingerprint - Computer Definition
---