interval

in·ter·val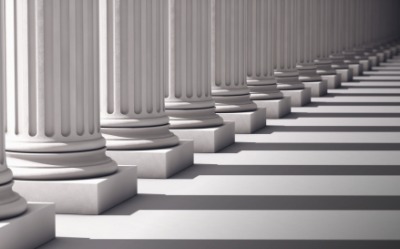 The shadows of the columns come in intervals.
noun
The definition of an interval is a space or a period of time between things.

An example of an interval is a 15-minute gap between train arrivals.
---
interval
a space between two things; gap; distance

a period of time between two events, points of time, etc.; intervening period

Brit.

intermission (sense )

the extent of difference between two qualities, conditions, etc.
intervale

Math.

the set containing all numbers between two given numbers: it may include one, both, or neither end point

Music

the difference in pitch between two tones
Origin of interval
Middle English
enterval, intervalle
from Old French from Classical Latin
intervallum
, literally , space between two palisades or walls from
inter-
, between +
vallum
, palisade, wall
at intervals
once in a while
here and there
---
interval
noun
A space between objects, points, or units, especially when making uniform amounts of separation: We set up hurdles at intervals of 15 yards around the track.
An amount of time between events, especially of uniform duration separating events in a series: We ran laps at 30-second intervals.
A segment of an athletic workout in which an athlete runs, swims, or does other exercise over a series of predetermined distances at regular time increments with intermittent rests.
Mathematics

a. A set of numbers consisting of all the numbers between a pair of given numbers along with either, both, or none of the endpoints.

b. A closed interval.

c. An open interval.

d. A half-open interval.

e. A line segment representing the set of numbers in an interval.

Chiefly British An intermission, as between acts of a play.
Music The difference, usually expressed in the number of steps, between two pitches.
Origin of interval
Middle English
intervalle
from
Old French
from
Latin
intervallum
inter-
inter-
vallum
rampart
Related Forms:
in′ter·val′ic in′ter·val′lic

adjective
---
interval

Noun
(plural intervals)
A period of time.

the interval between contractions during childbirth

(music) The difference (a ratio or logarithmic measure) in pitch between two notes, often referring to those two pitches themselves (otherwise known as a dyad).
(chiefly UK) An intermission.
(sports) half time, a scheduled intermission between the periods of play
interval class
interval cycle
Origin
From Old French intervalle, from Latin intervallum ("space between, interval, distance, interval of time, pause, difference; literally, space between two palisades or walls"), from inter ("between") + vallum ("palisade, wall").
---