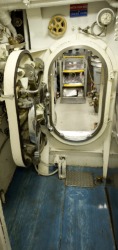 A hatchway on a submarine.
---
hatchway
noun
a covered opening in a ship's deck, through which cargo can be lowered or entrance made to a lower deck
a similar opening in the floor or roof of a building
---
hatchway
noun
A passage or opening leading to a hold, compartment, or cellar.
A ladder or stairway within a hatchway.
---
hatchway
---