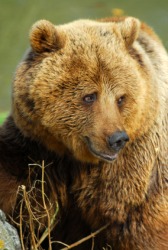 A large bruin.
noun
The definition of a bruin is a bear.

An example of a bruin is the mascot of the Boston hockey team, the Blades.
---
Bruin
the bear in the medieval beast epic Reynard the Fox
[alsob-] a name for any bear in fable and folklore
Origin of Bruin
Du, brown
---
bruin
noun
A bear.
Origin of bruin
Middle English
name of the bear in History of Reynard the Fox , translated by William Caxton
from
Middle Dutch
bruun, bruin
brown, name of the bear in the Middle Dutch version of the fable
; see
bher-
2
in Indo-European roots.
---
bruin

Origin
From Dutch bruin ("brown") via William Caxton's 1485 translation of a Dutch version of the legend of Reynard the Fox. Bruin is the bear, named for his brown color.
---