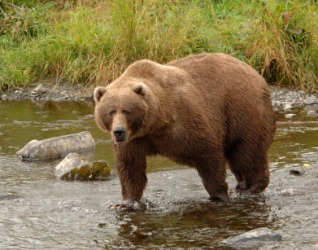 A brown bear crossing a stream.
---
brown bear
any of various tan to dark-brown bears (Ursus arctos), found in Europe, North America, etc., including the grizzly bear and Kodiak bear
---
brown bear
noun
A large bear (Ursus arctos) inhabiting western North America and northern Eurasia and having brown to yellowish fur. The brown bear is often divided into subspecies, including the grizzly and Kodiak bears.
---
brown bear
---