pressure

pres·sure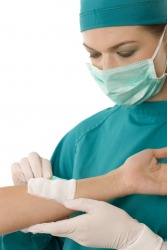 A doctor applies pressure to this bandage.
noun
Pressure is an application of force by pressing, or an urgent demand or force which can cause stress.

An example of pressure is holding a bandage firmly on an open cut.
---
pressure
a pressing or being pressed; compression; squeezing
a condition of distress; oppression; affliction
a sense impression caused by or as by compression of a part of the body
a compelling influence; constraining force: social pressure
demands requiring immediate attention; urgency

atmospheric pressure
blood pressure

Obs.

a mark made by pressing; impression

Physics

force per unit of area: abbrev. P
Origin of pressure
Old French from Classical Latin
pressura
, a pressing (LL(Ec), oppression, affliction) from
pressus
, past participle of
premere
, to press
transitive verb
-·sured

,

-·sur·ing
to exert pressure, or compelling influence, on
pressurize
---
pressure
noun
a. The act of pressing.

b. The condition of being pressed.

The application of continuous force by one body on another that it is touching; compression.
Abbr. P Physics Force applied uniformly over a surface, measured as force per unit area.
Meteorology Atmospheric pressure.

a. A compelling or constraining influence, such as persuasion or negative attitudes, on the mind or will: felt pressure to conform; peer-group pressure.

b. An influence acting as a source of distress or hardship: economic pressures forcing people to work two jobs.

c. Sports Sustained, effective play that puts an opponent at a disadvantage: Defensive pressure forced the quarterback to throw interceptions.

d. The condition of being subjected to physical, mental, social, or economic distress: doesn't work well under pressure.

A physical sensation produced by compression of a part of the body.
Archaic A mark made by application of force or weight; an impression.
transitive verb
pres·sured, pres·sur·ing, pres·sures
To force or try to force, as by influence or persuasion: The salesman pressured us to buy the car right away.
To pressurize.
To pressure-cook.
Origin of pressure
Middle English
from
Old French
from
Latin
pressūra
from
pressus
past participle of
premere
to press
; see
per-
4
in Indo-European roots.
---
pressure

Noun
(countable and uncountable, plural pressures)
A contrasting force or impulse of any kind

the pressure of poverty; the pressure of taxes; the pressure of motives on the mind; the pressure of civilization.

Distress.

She has felt pressure lately because her boss expects her to get the job done by the first.

Urgency

the pressure of business
Verb
(third-person singular simple present pressures, present participle pressuring, simple past and past participle pressured)
Origin
From Old French, from Latin pressūra.
---