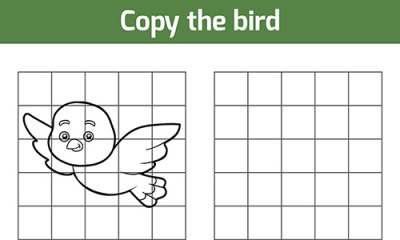 Can you replicate this bird drawing?
adjective
Replicate means folded back on itself.

An example of something replicate is a leaf folded in half.
noun
The definition of a replicate is a repeat of something.

An example of a replicate is an experiment in cell generation which is repeated.
verb
Replicate is defined as to make a copy of, or to fold or bend back.

An example of replicate is to copy a drawing from a book.
---
replicate
Bot.
folded back on itself, as a leaf
Origin of replicate
Classical Latin
replicatus,
past participle of
replicare:
see reply
Statistics
any of the individual experiments in a replication
transitive verb
-·cat·ed

,

-·cat·ing
to fold; bend back
to repeat, duplicate, copy, reproduce, etc.

Rare

to reply
to be replicated or to undergo replication
---
replicate
verb
rep·li·cat·ed, rep·li·cat·ing, rep·li·cates
verb
transitive
To duplicate, copy, reproduce, or repeat: "recreating his pose for a photo that replicated his glorious moment" ( Stuart Miller )
Biology To reproduce or make an exact copy or copies of (genetic material, a cell, or an organism).
To repeat (a scientific experiment) to confirm findings or ensure accuracy.
verb
intransitive
To become replicated; undergo replication: cells that replicate rapidly in culture.
noun
A repetition of an experiment or procedure.
adjective
replicate
Duplicated, copied, reproduced, or repeated: a replicate sample.
Folded over or bent back upon itself: a replicate leaf.
Origin of replicate
Middle English
replicaten
from
Late Latin
replicāre
replicāt-
to repeat
from
Latin
to fold back
re-
re-
plicāre
to fold
; see
plek-
in Indo-European roots.
Related Forms:
---
replicate

Verb
(third-person singular simple present replicates, present participle replicating, simple past and past participle replicated)
To make a copy (replica) of

On entering a host cell, a virus will start to replicate.
Noun
(plural replicates)
an outcome of a replication procedure.
Adjective
(comparative more replicate, superlative most replicate)
(botany, zoology) Folded over or backward; folded back upon itself.

a replicate leaf or petal
the replicate margin of a shell
---