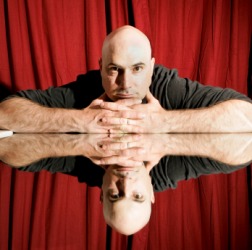 Seeing double; a man and his reflection.
adjective
The definition of double is twice as much or made of two parts.

An example of something double is four cookies as opposed to two.
noun
Double means something multiplied by two or something that looks or acts much like another.

An example of a double is a person who performs stunts for someone else in a movie.
verb
Double is defined as to make twice as much or to fold in half.

An example of to double is to cut one piece of pizza into two.
---
double
two combined; twofold; duplex
having two layers; folded in two

having two of one kind; paired; repeated: a double consonant
of or involving two or both: a double mastectomy

being of two kinds; dual: a double standard
having two meanings; ambiguous
twice as much, as many, as large, etc.: pay double fare
of extra size, value, strength, or quantity
designed or made for two: a double bed
characterized by duplicity; two-faced; deceiving: leading a double life
having a tone an octave lower: double bass

Bot.

having more than one set of petals
Origin of double
Middle English from Old French from Classical Latin
duplus
, literally , twofold (akin to Classical Greek
diploos
) from
duo
, two +
-plus
from Indo-European an unverified form
plo-
, -fold from base an unverified form
pel-
, to fold
to twice the extent or degree; twofold
two together; in or by pairs: to ride double
anything twice as much, as many, or as large as normal
a person or thing looking very much like another; duplicate; counterpart
a substitute actor or singer
a stand-in or substitute, as in films
a fold; second ply
a sharp turn or shift of direction
an evasive trick
[pl.] a game of tennis, handball, etc. with two players on each side

Baseball

a hit on which the batter reaches second base

Bridge

the doubling of an opponent's bid
transitive verb
-·bled

,

-·bling
to make double; make twice as much or as many; multiply by two
to fold so as to add another ply to: double the bandage
to repeat or duplicate
to be the double of

Baseball

to put out (the second runner) in executing a double play
to advance (a runner) by hitting a double

Bridge

to increase the point value or penalty of (an opponent's bid) by saying "double" when it is one's turn to bid

Music

to supply the upper or lower octave to (another part or voice): double the tenor in brass

Naut.

to sail around: they doubled Cape Horn
to become double; increase twofold
to bend or turn sharply back in the direction from which one came: the animal doubled back on its tracks
to serve as a double
to serve an additional purpose

Informal

to double-date

Baseball

to hit a double

Music

to play one or more instruments in addition to one's principal instrument: often with on
double down
to double one's original bet, investment, etc. so as to recover a past loss in addition to winning an amount equal to that loss
to improve one's chances of success, as by intensifying one's efforts
Origin of double
< the optional play in blackjack of doubling one's bet and receiving one card only
double one's fist
to clench one's hand to form a fist
double in brass
Slang
to do or be capable of doing something additional to one's specialty
double up
to bend over, as in laughter or pain

Informal

to share a room, etc. with someone
on the double
Informal
in double time (sense )
quickly
---
double
adjective
Twice as much in size, strength, number, or amount: a double dose.
Composed of two like parts: double doors.
Composed of two unlike parts; dual: a double meaning; a double role for an actor.
Accommodating or designed for two: a double bed; a double room.
Characterized by duplicity; deceitful: speak with a double tongue.
Botany Having many more than the usual number of petals, usually in a crowded or an overlapping arrangement: a double chrysanthemum.
noun
Something increased twofold.
One that closely resembles another; a duplicate.

a. Something having two identifiable or prominent parts or members.

b. Something capable of carrying, moving, or holding two people or things, as a mattress.

a. An actor's understudy.

b. An actor who takes the place of another actor in scenes requiring special skills or preparations: a stunt double; a body double.

An apparition; a wraith.

a. A sharp turn in a direction of movement; a reversal.

b. A sharp, often devious change in position or argument; a shift.

doubles Sports A form of a game, such as tennis or handball, having two players on each side.
Baseball A hit enabling the batter to reach second base. Also called two-bagger . Also called two-base hit .
Games

a. A bid in bridge indicating strength to one's partner; a request for a bid.

b. A bid doubling one's opponent's bid in bridge, thus increasing the penalty for failure to fulfill the contract.

c. A hand justifying such a bid.
verb
dou·bled, dou·bling, dou·bles
verb
transitive
To make twice as great.
To be twice as much as: doubled the score of his opponent.
To fold in two.
To clench (one's fist).
To duplicate; repeat.
To turn (an enemy spy) into a double agent.
Baseball

a. To cause the scoring of (a run) by hitting a double.

b. To advance or score (a runner) by hitting a double.

c. To put out (a runner) as the second part of a double play.

Games To challenge (an opponent's bid) with a double in bridge.
Music To duplicate (another part or voice) an octave higher or lower or in unison.
Nautical To sail around: double a cape.
verb
intransitive
To be increased twofold: The debt soon doubled.
To turn sharply or all the way around; reverse one's course: had to double back to touch the missed base.
To serve in an additional capacity: a frying pan that doubles as a pie tin; a conductor who doubles as a pianist.
To replace an actor in the actor's absence or in a certain scene.
Baseball To hit a double.
Games To announce a double in bridge.
adverb
To twice the amount or extent; doubly: paid double for the customized car.
Two together; in pairs: sleeping double.
In two: bent double.
Phrasal Verbs:
double up
To bend suddenly, as in pain or laughter.To share accommodations meant for one person.
Origin of double
Middle English
from
Old French
from
Latin
duplus
; see
dwo-
in Indo-European roots.
Related Forms:
---
double

---