pleat

pleat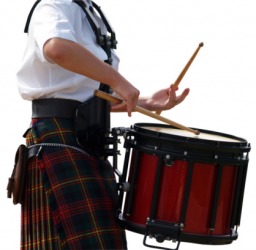 A man wearing a pleated kilt.
noun
The definition of a pleat is a stitched down double fold in a piece of fabric.

An example of a pleat is the folded fabric in a kilt.
verb
Pleat is defined as to press and stitch down double folds in a piece of fabric.

An example of pleat is sewing the double folds in a school girl's skirt.
---
pleat
a flat double fold in cloth or other material, of uniform width and pressed or stitched in place
Origin of pleat
Middle English
pleten
, variant, variety of
playten:
see plait
to lay and press (cloth) in a pleat or series of pleats
---
pleat
noun
A fold, especially one of several parallel folds made by doubling cloth or other material on itself and then pressing or stitching it into place.
transitive verb
pleat·ed, pleat·ing, pleats
To press or arrange in pleats: pleat a skirt; pleat curtains.
Origin of pleat
Middle English
plet
variant of
plait
pleat, fold
; see
plait
.
Related Forms:
---
pleat

Noun
(plural pleats)
(sewing) A fold in the fabric of a garment, as a part of the design of the garment, with the purpose of adding controlled fullness or taking up excess fabric. There are many types of pleats, differing in their construction and appearance.
(botany) A fold in an organ, usually a longitudinal fold in a long leaf such as that of palmetto, lending it stiffness.
A plait.
Verb
(third-person singular simple present pleats, present participle pleating, simple past and past participle pleated)
---