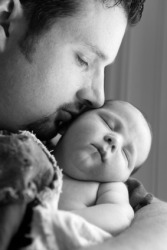 A baby with his doting father.
adjective
The definition of doting is someone who is overly devoted and adoring.

A grandmother who spoils her grandchild rotten and is always there loving her grandchild is an example of a doting grandmother.
---
doting
foolishly or excessively fond
---
doting

Verb
Present participle of dote.
Adjective
(comparative more doting, superlative most doting)
---