elevator

el·e·va·tor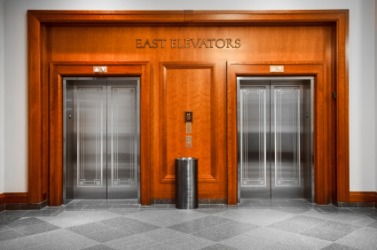 Elevators in an office building.
noun
The definition of an elevator is a lifting device usually made up of cables and a compartment that moves people or items up and down along a shaft.

An example of an elevator is an electronic lifting device in a hotel located in a shaft and moving up and down on cables to get you from the first floor to the tenth floor.
---
elevator
a person or thing that raises or lifts up
a platform, cage, or boxlike structure suspended by motor-operated cables, for hoisting or lowering people or things, as in a building or mine
a machine, usually consisting of buckets or scoops fastened to an endless belt or chain, for hoisting grain, etc., as in a warehouse
grain elevator
a pilot-controlled airfoil attached to the trailing edge of the tail section's horizontal stabilizers, used to make an aircraft go up or down and to control pitching
Origin of elevator
LL(Ec), one who raises up, a deliverer: see elevate
---
elevator
noun
a. A platform or an enclosure raised and lowered in a vertical shaft to transport people or freight.

b. The enclosure or platform with its operating equipment, motor, cables, and accessories.

A movable control surface, usually attached to the horizontal stabilizer of an aircraft, that is used to produce motion up or down.
A mechanism, often with buckets or scoops attached to a conveyor, used for hoisting materials.
See grain elevator.
---
elevator

Noun
(plural elevators)
A silo used for storing wheat, corn or other grain (grain elevator)
Trademark for a type of shoe having an insert lift to make the wearer appear taller.
A dental instrument used to pry up ("elevate") teeth in difficult extractions, or depressed portions of bone.
(anatomy) Any muscle that serves to raise a part of the body, such as the leg or the eye.
---
elevator - Computer Definition
---