silo

si·lo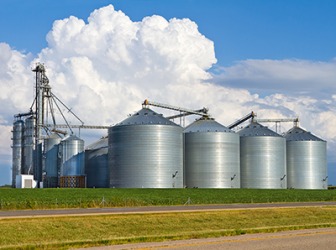 The silos store the grain while the grain elevator and slide remove it safely.
noun
The definition of a silo is an airtight tower or pit, usually next to a barn, used for grain storage, or a missile shelter.

An example of a silo is a cylinder shaped building where a farmer may store grain.
An example of a silo is an underground area to shelter and launch a missle.
---
silo
noun
pl.
-·los
an airtight pit or tower in which green fodder is preserved
a large, underground facility for the control, storage, and launching of a long-range ballistic missile
Origin of silo
French from Spanish from Classical Latin
sirus
from Classical Greek
siros
, an underground granary, pit
transitive verb
-·loed

,

-·lo·ing
to store in a silo
---
silo
noun
pl.
si·los
a. A usually tall cylindrical structure, typically next to a barn, in which silage is produced and stored.

b. Any of several other structures or containers used for the same purpose, such as a covered trench or a polyethylene bag.

An underground shelter for a missile, usually equipped to launch the missile or to raise it into a launching position.
transitive verb
si·loed, si·lo·ing, si·los
To store in a silo.
Origin of silo
Spanish
---
silo

Noun
(plural silos)
(pejorative, management) An organizational unit that has poor interaction with other units, negatively affecting overall performance.
(pejorative, informatics) A structure in the information system that is poorly networked with other structures, with data exchange hampered.

Our networking is organized in silos, and employees lose time manually transferring data.
Verb
(third-person singular simple present silos, present participle siloing, simple past and past participle siloed)
To store in a silo.
Origin
From Spanish silo, from Basque zilo, zulo ("grain cellar"), from Latin sirus ("pit for corn, underground granary"), (compare Latin sīromastes ("pit-searcher"), from Ancient Greek σειρομάστης (seiromastēs)), from Ancient Greek σιρός (siros, "pit for holding grain").
---
silo - Computer Definition
---