noun
The definition of a hoist is something used for lifting heavy things.

An example of hoist is a device used to help movers lift pianos.
verb
Hoist is defined as to raise or lift using a rope or a pulley.

An example of hoist is to pull up a sail on a sailboat.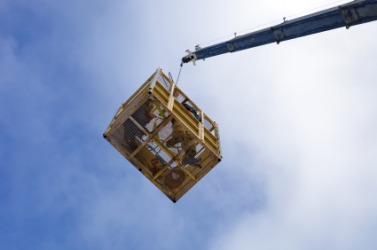 A crane is used to hoist a basket in the air.
---
hoist definition by Webster's New World
transitive verb
to raise aloft; lift or pull up, esp. by means of a cable, pulley, crane, etc.
Origin: ; from hoise plush unhistoric -t (; from uncertain or unknown; perhaps the past participle )
noun
an act of hoisting
an apparatus for raising heavy things; elevator; tackle

Naut.

the perpendicular height of a sail or flag
a group of signal flags displayed together on one line
Webster's New World College Dictionary Copyright © 2010 by Wiley Publishing, Inc., Cleveland, Ohio. Used by arrangement with John Wiley & Sons, Inc.
---
hoist definition by American Heritage Dictionary
verb
hoist·ed
,
hoist·ing
,
hoists
verb
, transitive
To raise or haul up with or as if with the help of a mechanical apparatus. See Synonyms at lift.
To raise to one's mouth in order to drink: hoist a few beers.
verb
, intransitive
To become raised or lifted.
noun
An apparatus for lifting heavy or cumbersome objects.
The act of hoisting; a lift.
Nautical

a. The height or vertical dimension of a flag or of any square sail other than a course.

b. A group of flags raised together as a signal.
Origin: Alteration of dialectal hoise, perhaps variant of Middle English hisse, heave!, possibly from Middle Dutch hissen, to haul.
Related Forms:
hoist
Variant of hoise