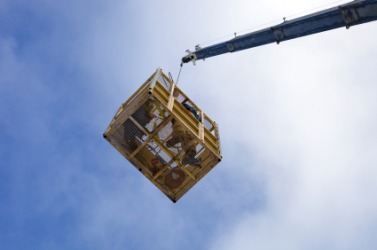 A crane is used to hoist a basket in the air.
noun
The definition of a hoist is something used for lifting heavy things.

An example of hoist is a device used to help movers lift pianos.
verb
Hoist is defined as to raise or lift using a rope or a pulley.

An example of hoist is to pull up a sail on a sailboat.
---
hoist
to raise aloft; lift or pull up, esp. by means of a cable, pulley, crane, etc.
Origin of hoist
from hoise + unhistoric
-t
( from uncertain or unknown; perhaps the past participle )
an act of hoisting
an apparatus for raising heavy things; elevator; tackle

Naut.

the perpendicular height of a sail or flag
a group of signal flags displayed together on one line
---
hoist
verb
hoist·ed, hoist·ing, hoists
verb
transitive
To raise or haul up, often with the help of a mechanical apparatus. See Synonyms at lift.
To raise to one's mouth in order to drink: hoist a few beers.
verb
intransitive
To become raised or lifted.
noun
An apparatus for lifting heavy or cumbersome objects.
The act of hoisting; a lift.
Nautical

a. The height or vertical dimension of a flag or of any square sail other than a course.

b. A group of flags raised together as a signal.
Origin of hoist
Alteration of
dialectal
hoise
perhaps variant of
Middle English
hisse
heave!
possibly from
Middle Dutch
hissen
to haul
Related Forms:
---
hoist

Verb
(third-person singular simple present hoists, present participle hoisting, simple past and past participle hoisted or hoist)
To raise; to lift; to elevate; especially, to raise or lift to a desired elevation, by means of tackle or pulley, as a sail, a flag, a heavy package or weight.
(historical) To lift someone up to be flogged.
(intransitive) To be lifted up.
(computing theory) To extract (code) from a loop construct as part of optimization.
Usage notes
"Hoisted" is about fifteen times more common than "hoist" in US usage as past and past participle.
Origin
Alteration of hoise, apparently based on the past tense and participle. Compare Danish hisse, German hissen, Italian issare (loaned from a Germanic source).
---