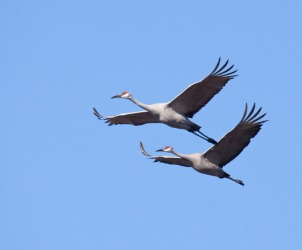 Two cranes in flight.
noun
The definition of a crane is a bird with long legs, a long neck and a long bill.

An example of a crane is the Blue Crane of South Africa.

Crane is defined as a large machine used to lift and move very heavy things.

An example of a crane is the big metal machine used to lift shipping containers off of a cargo ship.
---
crane
pl.

cranes

or

any of a family (Gruidae) of usually large gruiform wading birds with very long legs and neck, and a long, straight bill

popularly

any of various unrelated birds, as herons and storks

any of various machines for lifting or moving heavy weights by means of a movable projecting arm or a horizontal beam traveling on an overhead support
any device with a swinging arm fixed on a vertical axis: a fireplace crane is used for holding a kettle
Origin of crane
Middle English from Old English
cran
: akin to Dutch
kraan,
German
kranich
from Indo-European an unverified form
gr-on
from base an unverified form
ger-
: see crow
transitive verb
intransitive verb
craned

,

cran′ing
to raise or move with a crane
to stretch (the neck) as a crane does, as in straining to see over something
Crane
1871-1900; U.S. novelist & short-story writer
---
crane
noun
a. Any of various large wading birds of the family Gruidae, having a long neck, long legs, and a long bill.

b. A similar bird, such as a heron.

A machine for hoisting and moving heavy objects by means of cables attached to a movable boom.
Any of various devices with a swinging arm, as in a fireplace for suspending a pot.
verb
craned, cran·ing, cranes
verb
transitive
To hoist or move with or as if with a crane.
To strain and stretch (the neck, for example) in order to see better.
verb
intransitive
To stretch one's neck toward something for a better view.
To be irresolute; hesitate.
Origin of crane
Middle English
from
Old English
cran
; see
gerə-
2
in Indo-European roots.
crane
top: gray crowned crane
Balearica regulorum
bottom: mechanical crane at a construction site
crane
---
crane

---