administration

ad·min·is·tra·tion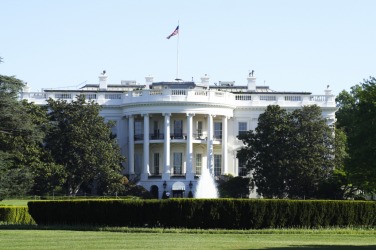 Administration would refer to the President and his staff.
noun
The definition of administration refers to the group of individuals who are in charge of creating and enforcing rules and regulations, or those in leadership positions who complete important tasks.

An example of administration is the President of the United States and the individuals he appoints to support him.

Administration is defined as the act of managing duties, responsibilities, or rules.

An example of administration is the act of the principal in the school managing the faculty and staff and employing the rules of the school system.
---
administration
the act of administering; management; specif., the management of governmental or institutional affairs

administrators collectively
[oftenA-] the officials in the executive branch of a government and their policies and principles

their term of office
the administering (of punishment, medicine, a sacrament, an oath, etc.)

Law

the management and settling (of an estate) by an administrator or executor
Origin of administration
Middle English
administracioun
from Old French
administration
from Classical Latin
administratio
from past participle of
administrare
, administer
---
administration
noun
The act or process of administering, especially the management of a government or large institution.
The activity of a government or state in the exercise of its powers and duties.
often Administration

a. The executive branch of a government.

b. The group of people who manage or direct an institution, especially a school or college.

The term of office of an executive officer or body.
Law Management of a trust or estate.
The dispensing, applying, or tendering of something, such as an oath, a sacrament, or medicine.
Related Forms:
ad·min′is·tra′tive

adjective
ad·min′is·tra′tive·ly

adverb
---
administration

Noun
(usually uncountable, plural administrations)
(uncountable) The act of administering; government of public affairs; the service rendered, or duties assumed, in conducting affairs; the conducting of any office or employment; direction.
(countable) A body that administers; the executive part of government; the persons collectively who are entrusted with the execution of laws and the superintendence of public affairs; the chief magistrate and his cabinet or council; or the council, or ministry, alone, as in Great Britain.

Successive US administrations have had similar Middle East policies.

(uncountable) The act of administering, or tendering something to another; dispensation.

the administration of a medicine, of an oath, of justice, or of the sacrament.

(uncountable, business) Management.
(uncountable, law, UK) An arrangement whereby an insolvent company can continue trading under supervision.

The company went into voluntary administration last week.
---
administration - Legal Definition
n
A court's management and distribution of property during a judicial proceeding.
The management and settlement of the estate of an intestate or of a testator who has no executor by a person appointed by the court.
---