noun
The definition of a keyboard is a row of keys on a piano, computer, typewriter, etc.

An example of keyboard is where the arrangement of keys "QWERTY" is found.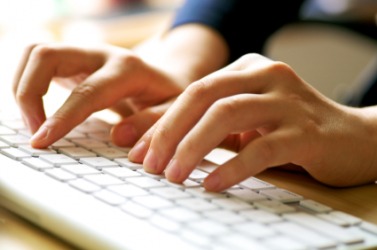 A person using a computer keyboard.
---
keyboard definition by Webster's New World
noun
the row or rows of keys of a piano, typewriter, linotype, computer terminal, etc.
a musical instrument with a keyboard; esp., an electronic piano, synthesizer, etc. as employed in a rock or jazz group
transitive verb
,
intransitive verb
to set (type) using a keyboard typesetting machine
to write or input by means of a keyboard
Webster's New World College Dictionary Copyright © 2010 by Wiley Publishing, Inc., Cleveland, Ohio. Used by arrangement with John Wiley & Sons, Inc.
---
keyboard definition by American Heritage Dictionary
noun
A set of keys, as on a computer terminal, word processor, typewriter, or piano.
Music

a. A piano.

b. Any of various instruments, played by means of a set of pianolike keys, often connected to a synthesizer or amplifier.
transitive verb
key·board·ed
,
key·board·ing
,
key·boards
a. To set (copy) by means of a keyed typesetting machine: keyboard a manuscript.

b. To enter (text or data) into a computer by means of a keyboard.

Music To play (a composition) on a piano or keyboard.
Related Forms:
keyˈboardˌer, keyˈboardˌist

noun
The American Heritage® Dictionary of the English Language, 4th edition Copyright © 2010 by Houghton Mifflin Harcourt Publishing Company. Published by Houghton Mifflin Harcourt Publishing Company. All rights reserved.
---
keyboard - Computer Definition
A simple computer input device comprising a set of alphabetic, numeric, punctuation, symbol, control, and function keys mounted on a board or other flat surface or control panel.When the user depresses a key or a combination of keys, a coded signal is sent to the computer. If the key is associated with a character, the computer echoes the signal by displaying the character on the monitor. See also keypad.