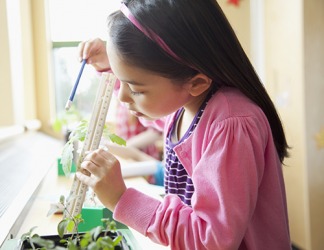 Jennifer uses a ruler to measure the plant she is growing for an experiment in her science class.
noun
The definition of a ruler is a strip of wood, plastic or metal used for measuring, or a leader.

An example of a ruler is a wooden tool used to measure the length of a piece of paper.
An example of a ruler is a king.
---
ruler
a person or thing that rules or governs
a thin strip of wood, metal, etc. with a straight edge and markings in whole and fractional units of length, as inches or centimeters, used in drawing straight lines, measuring length, etc.
a person or device that rules lines on paper, etc.
---
ruler
noun
One, such as a monarch or dictator, that rules or governs.
A straightedged strip, as of wood or metal, for drawing straight lines and measuring lengths. Also called rule .
---
ruler

Usage notes
In American English, the word "ruler" is often used specifically to refer to such a measuring device that is one foot (12 inches) long. Used in contrast with "yardstick" and "meter stick."
---