dictator

dic·ta·tor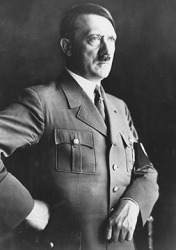 Hitler was the dictator of Germany during WWII and was responsible for many atrocities during his reign of power.
noun
The definition of a dictator is a ruler with total power or is someone who rules by force regardless of what others want or need.

An example of a dictator is someone who rules a country by force and who cares only about his own needs and not the desires of the people.
---
dictator
in ancient Rome, a magistrate with supreme authority, appointed in times of emergency
a ruler with absolute power and authority, esp. one who exercises it tyrannically
a person who orders others about domineeringly, or one whose pronouncements on some subject are meant to be taken as the final word
a person who dictates words for another to write down
Origin of dictator
Middle English
dictatour
from Classical Latin
dictator
: see dictate
---
dictator
noun
a. An absolute ruler.

b. A tyrant; a despot.

An ancient Roman magistrate appointed temporarily to deal with an immediate crisis or emergency.
One who dictates: These initials are those of the dictator of the letter.
---
dictator

Noun
(plural dictators)
Originally, a magistrate without colleague in republican ancient Rome, who held full executive authority for a term granted by the senate (legislature), typically to conduct a war
A totalitarian leader of a country, nation, or government
A tyrannical boss, or authority figure
A person who dictates text (e.g. letters to a clerk)
A ruler or Führer, the highest level of authority.
---