rajah

ra·jah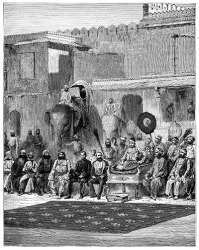 A rajah sitting on a throne in a ceremonial gathering under British rule.
noun
The definition of a rajah is a ruler in India or the East Indies.

An example of a rajah is Manvendra Singh Gohil, former prince of India.
---
rajah
or ra′ja
a prince or chief in India
a Malay or Javanese chief
Origin of rajah
Hindi
r?j?
from Sanskrit
r?jan
from
r?j,
to rule from Indo-European base an unverified form
re?-,
to put in order from source right, Classical Latin
rex,
king
---
rajah

Origin
From Hindustani राजा (rājā) / راجا (rājā), from Sanskrit राजन् (rājan, "king, prince").
---