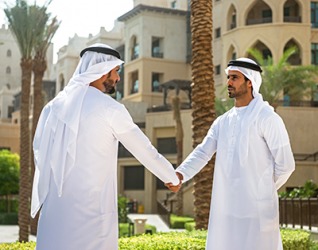 The sheik is a very successful businessman so he is able to sponsor several humanitarian organizations in his country.
noun
The definition of a sheik is a leader of an Arabian family or village, or an official in the Muslim religion.

An example of a sheik is a rich and powerful man who is the leader of an Arab tribe and who everyone in the village listens to and obeys.
---
sheik
or sheikh
the chief of an Arab family, tribe, or village
a Muslim religious or community leader

Origin of sheik

< The Sheik, novel (1921) by E. M. Hull (1880-1947), Brit novelist

Slang

a masterful man to whom women are irresistibly attracted
Origin of sheik
Arabic
shaikh
, literally , old man from
sh?kha
, to grow old
---
sheik

Noun
(plural sheiks)
(some Arab Gulf countries) An official title for members of the royal family as well as some prominent families.
(1920s) A romantic lover. (from the 1921 film The Sheikh)
(slang) An Arab, especially one dressed in traditional clothing.
An honorific for specialists in spirituality.
Usage notes
The use for a religious leader is colloquial as a means of respect. There is no official title.
Origin
From Arabic شيخ (Å¡aykh), from شاخ (šākha, "to age, grow old").
---