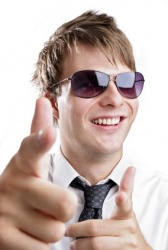 A dude.
noun
Dude is defined as slang for a man or a boy.

An example of dude is how one male surfer may refer to another male surfer.
---
dude
a man too much concerned with his clothes and appearance; dandy; fop

West, Slang

a city fellow or tourist, esp. an Easterner who is vacationing on a ranch

Slang

any man or boy: often used as a casual term of address, as from one young man to another
Origin of dude
from uncertain or unknown; perhaps German dialect, dialectal
dude
, a fool
transitive verb
dud′ed

,

dud′ing
to dress up, esp. in showy or flashy clothes
to add showy ornamentation to
Slang
to dress up, esp. in showy or flashy clothes: usually used with
up
---
dude
noun
Informal An Easterner or city person who vacations on a ranch in the West.
Informal A man who is very fancy or sharp in dress and demeanor.
Slang

a. A man; a fellow.

b. A person of either sex.
transitive verb
dud·ed, dud·ing, dudes
Slang
To dress elaborately or flamboyantly: got all duded up for the show.
interjection
Slang
Used to express approval, satisfaction, or congratulations.
Origin of dude
Respelling of late 19th-century
American slang
dood
fop, dandy
probably from shortening of
Yankee Doodle
a bumpkin who sticks a feather in his cap in imitation of fashionable macaronies in the American popular song "Yankee Doodle"
Yankee
doodle
fool
; see
doodlebug
.
---
dude

Noun
(plural dudes)
(slang) A man.
(slang, used in the vocative) A term of address for a man.

Relax, dude.

(originally) An inexperienced cowboy.
(slang) A tourist.
(archaic) A dandy, a man who is very concerned about his dress and appearance.
Verb
(third-person singular simple present dudes, present participle duding, simple past and past participle duded)
to address someone with the term of address dude
Origin
Of unknown origin. First attested in 1883 as a New York City slang term of contempt for a "fastidious man, fop". Possibly related to dawdle, to German Low German Dudeldop, Dudendop ("fool, dunce"), from Middle Low German dudendop ("cuckold", "simpleton"), or to Saterland Frisian Duddigegen ("idiot").
See also:
dudë
---