noun
Dude is defined as slang for a man or a boy.

An example of dude is how one male surfer may refer to another male surfer.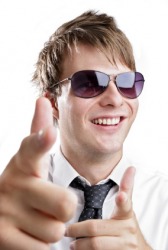 A dude.
---
dude definition by Webster's New World
☆
noun
a man too much concerned with his clothes and appearance; dandy; fop

West, Slang

a city fellow or tourist, esp. an Easterner who is vacationing on a ranch

Slang

any man or boy
Origin: ; from uncertain or unknown; perhaps
transitive verb
duded, duding
to dress up, esp. in showy or flashy clothes
to add showy ornamentation to
intransitive verb
Slang
to dress up, esp. in showy or flashy clothes: usually used with
up
---
dude definition by American Heritage Dictionary
noun
Informal An Easterner or city person who vacations on a ranch in the West.
Informal A man who is very fancy or sharp in dress and demeanor.
Slang

a. A man; a fellow.

b. dudes Persons of either sex.
transitive verb
dud·ed
,
dud·ing
,
dudes
Slang To dress elaborately or flamboyantly: got all duded up for the show.
interjection
Slang
Used to express approval, satisfaction, or congratulations.
Origin: Origin unknown.
Our Living Language
Cowboys and the Wild West are indelibly set in the minds of many as typical of America—an association borne out by several common Modern English words that originated in the speech of the 19th-century western United States. One is
dude,
now perhaps most familiar as a slang term with a wide range of uses (including use as an all-purpose interjection for expressing approval:
"Dude!"
). Originally it was applied to fancy-dressed city folk who went out west on vacation. In this usage it first appears in the 1870s. The origin of the word is not known, but a number of other cowboy terms were borrowed by early settlers from American Spanish. These include
buckaroo, corral, lasso, mustang, ranch, rodeo,
and
stampede. Buckaroo,
interestingly, is an example of a word borrowed twice: it is an Americanized form of Spanish
vaquero,
which also made it into English as
vaquero,
a cowboy.