seat

seat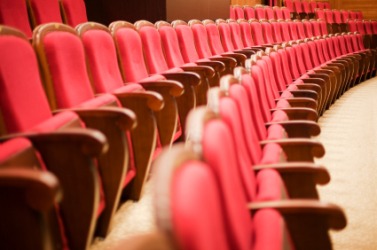 Empty seats at a theatre.
noun
The definition of a seat is a reserved space, something used for sitting, the part of your body that you sit on, or an organizational position.

An example of a seat is the chair reserved at a concert.
An armchair is an example of a seat.
Your buttocks are an example of your seat.
A congressional position is an example of a political seat.
verb
Seat is to help someone sit down, or to accommodate.

An example of seat is for an usher at a wedding to guide someone to their chair.
A movie theatre accommodating 200 people is an example of to seat.
---
seat
the manner of sitting, as on horseback

a place or space to sit, or the right to such a place, esp. as evidenced by a ticket: to buy two seats to the opera
a thing to sit on; chair, bench, stool, etc.

the buttocks
the part of a garment covering the buttocks
the part of a chair, bench, etc. that supports the buttocks

the right to sit as a member; position of a member; membership: a seat on the stock exchange

a part forming the base of something
a part or surface on which another part rests or fits snugly

the place where something is carried on, settled, established, etc.; center; location; site: the seat of government, a seat of learning
a part of the body in which some power, function, quality, etc. is or is thought to be centered
a home or residence; esp., a large house that is part of a country estate
Origin of seat
Middle English
sete
from Old Norse
sæti
: for Indo-European base see sit
to put or set in or on a seat
to lead to a seat or help to settle into a seat
to have seats for; accommodate with seats: a hall that seats 500
to put a seat in or on; patch or renew the seat of; reseat
to put, fix, or establish in a particular place, position of authority, etc.
be seated
to assume a seated position; sit down
by the seat of one's pants
Slang
relying on one's intuition and experience rather than on instruments or a predetermined plan
Origin of seat
WWII pilots' term: prob. in ref. to experience gained while seated in the cockpit
---
seat
noun
a. Something, such as a chair or bench, that may be sat on: There are comfortable seats in the waiting room.

b. The part on which one rests in sitting: the seat of a chair; a bicycle seat.

a. A place in which one may sit: found a seat on the floor.

b. The right to occupy such a place or a ticket indicating this right: got seats for the concert.

a. The buttocks.

b. The part of a garment that covers the buttocks.

a. A part serving as the base of something else.

b. The surface or part on which another part sits or rests.

a. The place where something is located or based: The heart is the seat of the emotions.

b. A center of authority; a capital: the county seat.

A place of abode or residence, especially a large house that is part of an estate: the squire's country seat.
Membership in an organization, such as a legislative body or stock exchange, that is obtained by appointment, election, or purchase.
The manner of sitting on a horse: a rider with a good seat.
verb
seat·ed, seat·ing, seats
verb
transitive
a. To place in or on a seat.

b. To cause or assist to sit down: The ushers will seat the members of the bride's family.

To provide with a particular seat: The usher seated me in the back row.
To have or provide seats for: We can seat 300 in the auditorium.
To install in a position of authority or eminence.
To fix firmly in place: seat an ammunition clip in an automatic rifle.
verb
intransitive
To rest on or fit into another part: The O-rings had not seated correctly in their grooves.
Origin of seat
Middle English
sete
probably from
Old Norse
sæti
; see
sed-
in Indo-European roots.
---
seat

Noun
(plural seats)
Something to be sat upon.

A place in which to sit.

There are two hundred seats in this classroom.

The horizontal portion of a chair or other furniture designed for sitting.

He sat on the arm of the chair rather than the seat, which always annoyed his mother.
the seat of a saddle

A piece of furniture made for sitting; e.g. a chair, stool or bench; any improvised place for sitting.

She pulled the seat from under the table to allow him to sit down.

The part of an object or individual (usually the buttocks) directly involved in sitting.

Instead of saying "sit down", she said "place your seat on this chair".

The part of a piece of clothing (usually pants or trousers) covering the buttocks.

The seat of these trousers is almost worn through.

(engineering) A part or surface on which another part or surface rests.

The seat of the valve had become corroded.

A location or site.

(figuratively) A membership in an organization, particularly a representative body.

Our neighbor has a seat at the stock exchange and in congress.

The location of a governing body.

Washington D.C. is the seat of the U.S. government.

(certain Commonwealth countries) An electoral district, especially for a national legislature.
The place occupied by anything, or where any person or thing is situated or resides; a site.

The starting point of a fire.
Verb
(third-person singular simple present seats, present participle seating, simple past and past participle seated)
To put an object into a place where it will rest; to fix; to set firm.

Be sure to seat the gasket properly before attaching the cover.

To provide with places to sit.

This classroom seats two hundred students.
The waiter seated us and asked what we would like to drink.

To assign the seats of.

to seat a church

To cause to occupy a post, site, or situation; to station; to establish; to fix; to settle.
To settle; to plant with inhabitants.

to seat a country

To put a seat or bottom in.

to seat a chair
Origin
From Middle English, from Old Norse sæti, from Proto-Germanic *sētiją; compare Old English set. Compare also Old High German gisazi (German Gesäß), Middle Dutch gesaete.
Noun
(plural SEATs)
(US, aviation, firefighting, acronym) Single engine air tanker.
---
seat - Computer Definition
---
seat - Investment & Finance Definition
A membership on a stock or futures exchange that traders can buy and sell. The prices of seats are determined by market forces. The term seat derives its name from the New York Stock Exchange (NYSE), where, in the early years of its existence, members sat in assigned seats during the roll call of stocks. However, that literal meaning became moot when continuous trading began in 1971. As of this printing, the record sale for a seat on the NYSE is $2.65 million in August 1999.
---