install

in·stall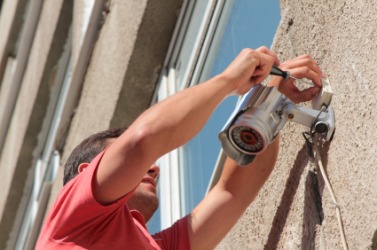 A man installs a security camera.
verb
Install is defined as to formally place someone in an office or position, or to put something in position or set it up.

An example of install is to have a ceremony to officially recognize new members of a Girl Scout troop.
An example of install is to put a new sprinkler system in the yard.
---
install
or in·stal′
transitive verb
-·stalled′

,

-·stall′ing
to place in an office, rank, etc., with formality or ceremony
to establish in a place or condition; settle: to install oneself in a deck chair
to fix in position for use: to install new fixtures
Origin of install
Ecclesiastical Medieval Latin
installare
from
in-
, in +
stallum
from Old High German
stal
, a place, seat, stall
---
install
also in·stal
transitive verb
in·stalled, in·stall·ing, in·stalls,
also
in·stals
To connect or set in position and prepare for use: installed the new furnace; installed software on my computer.
To induct into an office, rank, or position: a ceremony to install the new governor.
To settle in an indicated place or condition; establish: installed myself in the spare room.
Origin of install
Middle English
installen
to place in office
from
Old French
installer
from
Medieval Latin
īnstallāre
Latin
in-
in
; see
in-
2
.
stallum
stall, place
; see
stel-
in Indo-European roots.
Related Forms:
---
install

Verb
(third-person singular simple present installs, present participle installing, simple past and past participle installed)
To connect, set up or prepare something for use.

I haven't installed the new operating system yet because of all the bugs.

To admit formally into an office, rank or position.

He was installed as Chancellor of the University.
Noun
(plural installs)
(informal) Installation. (Usage originated as a truncated form of the word installation.)
(computing) (jargon): A computer software utility that is run to install a software application. Also used attributively.

After inserting the disk, you need to run the install.
But I can't find the install disk.
Origin
From Middle English installen, from Old French installer, from Medieval Latin installō ("to install, put in place, establish"), from in- + stallum ("stall"), from Frankish *stall ("stall, position, place"), from Proto-Germanic *stallaz ("place, position"), from Proto-Indo-European *stelǝ-, *stAlǝn-, *stAlǝm- ("stem, trunk"). Cognate with Old High German stal ("location, stall"), Old English steall ("position, stall"), Old English onstellan ("to institute, create, originate, establish, give the example of"), Middle High German anstalt ("institute"), German anstellen ("to conduct, employ"), German einstellen ("to set, adjust, position"), Dutch aanstellen ("to appoint, commission, institute"), Dutch instellen ("to set up, establish"). More at in, stall.
---