verb
Install is defined as to formally place someone in an office or position, or to put something in position or set it up.

An example of install is to have a ceremony to officially recognize new members of a Girl Scout troop.
An example of install is to put a new sprinkler system in the yard.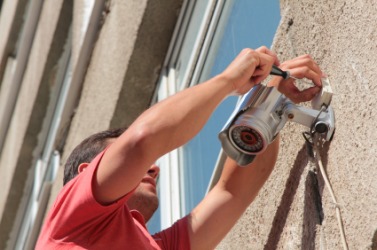 A man installs a security camera.
---
install definition by Webster's New World
or instal
transitive verb
installed, installing
to place in an office, rank, etc., with formality or ceremony
to establish in a place or condition; settle: to install oneself in a deck chair
to fix in position for use: to install new fixtures
Origin: Ecclesiastical Medieval Latin installare ; from in-, in plush stallum ; from Old High German stal, a place, seat, stall
Webster's New World College Dictionary Copyright © 2010 by Wiley Publishing, Inc., Cleveland, Ohio. Used by arrangement with John Wiley & Sons, Inc.
---
install definition by American Heritage Dictionary
also in·stal
transitive verb
in·stalled
,
in·stall·ing
,
in·stalls
also
in·stals
To connect or set in position and prepare for use: installed the new furnace; installed software on my computer.
To induct into an office, rank, or position: a ceremony to install the new governor.
To settle in an indicated place or condition; establish: installed myself in the spare room.
Origin: Middle English installen, to place in office, from Old French installer, from Medieval Latin īnstallāre : Latin in-, in; see in-2 + stallum, stall, place; see stel- in Indo-European roots.
Related Forms: