adjective
The definition of wire is made of metal in long, thin rods or threads.

An example of wire used as an adjective is in the phrase "wire fence," which means a fence made of such material.
noun
Wire is metal that is in very thin threads or rods, or something made of such a substance, or is slang for a hidden recording device.

An example of wire is a thin round thread used to make a netting.
An example of wire is a telephone cable.
An example of a wire is a microphone hidden in a shirt of an undercover police officer.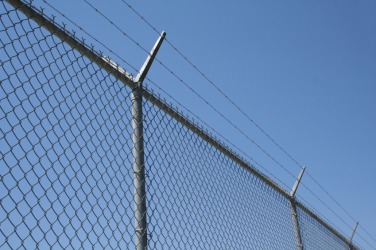 A wire fence.
---
wire
noun
metal that has been drawn into a very long, thin thread or rod, usually circular in cross section
a length of this, used for various purposes, such as conducting electric current or stringing musical instruments
wire netting or other wirework
anything made of wire or wirework, as a telephone cable, a barbed-wire fence, or a snare

telegraph: reply by wire
a telegram

Slang

a concealed microphone or recording device, carried or worn as for espionage or by undercover police
☆

Horse Racing

a wire above the finish line of a race
Origin of wire
Middle English ; from Old English
wir
, akin to Low German
wīr
; from Indo-European an unverified form
weir-
; from base an unverified form
wei-
, to bend, turn from source withe, Classical Greek
iris
, rainbow, Classical Latin
vitis
, vine
adjective
made of wire or wirework
transitive verb
wired, wiring
to furnish, connect, bind, attach, string, etc. with a wire or wires
to supply with a system of wires for electric current
to telegraph

Archaic

to snare with a wire or wires
intransitive verb
to telegraph
down to the wire
☆
to the very end or the very last moments
pull wires
☆
Origin of wire
from the wires used to operate puppets
to use private influence to achieve a purpose
(get in) under the wire
☆
(to arrive or accomplish something) barely on time or at the last minute
(from) wire to wire
Informal
from start to finish
---
wire
noun
a. Metal that has been drawn out into a strand or rod, used chiefly for structural support, as in concrete, and for conducting electricity, when it is usually insulated with a rubber or plastic cladding: bought some wire at the hardware store.

b. A strand or rod of such material, or a cable made of such strands twisted together.

c. Fencing made of wire, especially barbed wire.

d. wires The system of strings employed in manipulating puppets in a show.

Slang A hidden microphone, as on a person's body or in a building.

a. A telephone or telegraph connection: Who is on the wire?

b. A telegraph service: sent the message by wire.

c. A telegram or cablegram: "Mac got a wire from Milly that Uncle Tim was dead" (John Dos Passos).

d. A wire service: The news came over the wire.

A pin in the print head of a computer printer.
The screen on which sheets of paper are formed in a papermaking machine.
Sports The finish line of a racetrack.
Slang A pickpocket.
verb
wired
wired
,
wir·ing
,
wires
verb
, transitive
a. To equip with a system of electrical wires: wire a house.

b. To attach or connect with electrical wire or cable: Is the printer wired to the computer?

c. To attach or fasten with wire: Surgeons wired his shoulder together.

Slang To install electronic eavesdropping equipment in (a room, for example).

a. To send by telegraph: wired her congratulations.

b. To send a telegram to (someone).

Computers To implement (a capability) through logic circuitry that is permanently connected within a computer or calculator and therefore not subject to change by programming.
To determine genetically; hardwire: "It is plausible that the basic organization of grammar is wired into the child's brain" (Steven Pinker).
verb
, intransitive
To send a telegram.
Origin of wire
Middle English, from Old English
wīr
; see
wei-
in Indo-European roots.
Related Forms:
---
wire
Noun
(countable and uncountable, plural wires)
(uncountable) Metal formed into a thin, even thread, now usually by being drawn through a hole in a steel die.
A metal conductor that carries electricity.
(sports) A finish line of a racetrack.
(informal) A telecommunication wire or cable; hence, an electric telegraph; a telegram.
(slang) A hidden listening device on the person of an undercover operative for the purposes of obtaining incriminating spoken evidence.
(informal) A deadline or critical endpoint.

This election is going to go right to the wire

(billiards) A wire strung with beads and hung horizontally above or near the table which is used to keep score.
Verb
(third-person singular simple present wires, present participle wiring, simple past and past participle wired)
To fasten with wire, especially with reference to wine bottles, corks, or fencing.

We need to wire that hole in the fence.

To string on a wire.

wire beads

To equip with wires for use with electricity.
To add something into an electrical system by means of wiring; to incorporate or include something.

I'll just wire your camera to the computer screen.

(informal) To send a message or a money value to another person through a telecommunications system, formerly predominately by telegraph.

Urgent: please wire me another 100 pounds sterling.

To make someone tense or psyched up.

I'm never going to sleep: I'm completely wired from all that coffee.

(slang) To install eavesdropping equipment.

We wired the suspect's house.

To snare by means of a wire or wires.
Antonyms
(to fasten with wire): unwire
Origin
From Middle English wir, wyr, from Old English wīr ("wire, metal thread, wire-ornament"), from Proto-Germanic *wīraz ("wire"), from Proto-Indo-European *weyro- ("a twist, thread, cord, wire"), from Proto-Indo-European *wey- ("to turn, twist, weave, plait"). Cognate with Low German Wir ("wire"), German Wiere ("wire, metallic thread"), Icelandic vír ("wire"), Swedish vira ("to twist"), Latin vieō ("weave together"), Welsh gwyr ('bent'), and Greek ίρις ('rainbow').
---
wire - Computer Definition
A current-carrying metal conductor, generally encased in a dielectric insulating material. A solid core conductor comprises a single wire. A stranded conductor comprises a number (usually 7 or 17, because they pack neatly) of small wires.Telecommunications wires generally are made of copper to conduct electrical current, although tinned copper, copper-clad aluminum, and other metals and metal combinations also can be used. Stranded, rather than solid core, conductors are used in applications requiring high flex strength. The wires generally are separately insulated with polyethylene, polyvinyl chloride (PVC), flouropolymer resin,Teflon, or some other low-smoke, fire-retardant, dielectric material.Two wires then typically are twisted in a helix with a constant pitch or distance to make a 360-degree twist to form a twisted pair. One or more pairs then are formed into a cable, which is covered in a protective sheath of dielectric material. See also cable, conductor, current, dielectric, flex strength, insulation, and twisted pair.
---
Generally refers to the physical cabling in a network. "Over the wire" means transmitting the signals onto the physical medium. Increasingly, the wire is no longer metal, but glass.
---