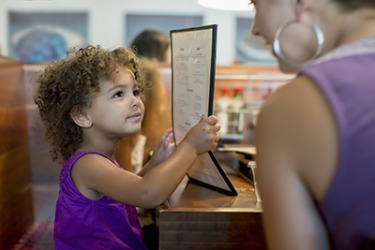 The family had a sit-down meal at their favorite restaurant.
adjective
Sit-down is defined as a meal eaten at a table, or protestors sitting in a certain place and refusing to move.

An example of a sit down meal is when you go to a restaurant and eat at a table.
An example of a sit down protest is when workers refuse to leave the factory after a wage dispute.
noun
The definition of a sit-down is a protest where people sit in a particular location and don't move until their demands are met.

An example of a sit-down is when a factory worker is protesting a cut in wages by sitting at her station and refusing to leave.
---
sit-down
a strike, usually illegal, in which the strikers stay inside a factory, etc., refusing to work or leave until agreement is reached
sit-in
a meeting or conference
served to persons, esp. guests, who are seated at a table: a sit-down dinner for twelve
---
sit-down
noun
A work stoppage in which the workers refuse to leave their place of employment until their demands are considered or met. Also called sit-down strike .
An obstruction of normal activity by the act of a large group sitting down in public to express a grievance or protest.
Informal An act, instance, or period of sitting.
Informal A meal for people seated at a table.
adjective
Performed or accomplished while sitting down: a sit-down discussion; a sit-down protest.
Intended for people seated at a table: a sit-down dinner for 12.
---
sit-down

Noun
(plural sitdowns)
Alternative spelling of sit-down.
Adjective
(not comparable)
Intended to be done while sitting.
Noun
(plural sit-downs)
An act of sitting down, especially with other people in some form of social exchange.
A sit-in, a protest of civil disobedience by people sitting and refusing to move.
Verb
(third-person singular simple present sits down, present participle sitting down, simple past and past participle sat down)
(intransitive) To assume a sitting position from a standing position.

Sit down! We have work to do.

( reflexive) To cause to be seated or in a sitting posture; to furnish a seat to.
(figuratively) To meet formally at a conference table.
---