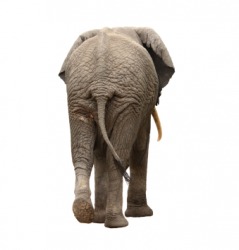 The rear end of an elephant.
noun
The definition of a rear end is the back of something.

An example of rear end is your buttocks.
verb
To rear end is to hit the back of someone's vehicle.

An example of rear end is when your car hits the back of someone else's car.
---
rear end
the back part of something

Slang

the buttocks
rear-end
to crash into, or cause one's vehicle to crash into, the back end of (another vehicle)
---
rear end
noun
The rear part: the rear end of a car.
Informal The buttocks.
rear-end
transitive verb
rear-end·ed, rear-end·ing, rear-ends
Slang
To run into (another motor vehicle) from behind: My car was rear-ended by a truck.
Related Forms:
---
rear-end

---