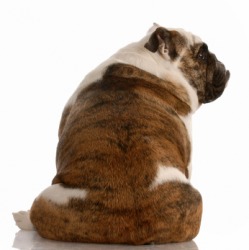 A dogs backside.
noun
The definition of backside is the rump of a human or the hind part of an animal.

If you slip on ice and fall on your rear end, then that is an example of falling on your backside.
---
backside
the back or hind part
the rump; buttocks
Origin of backside
Middle English
bak side
---
backside
noun
Informal
The buttocks; the rump.
---
backside

Noun
(plural backsides)
The side of something that is opposite the front.

The backside of the building faced an alley, and was covered in grime and scrawled graffiti.

The buttocks.

After riding the horse all day for the first time, I had painful blisters on my backside.
---