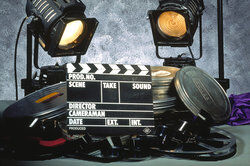 When an author or screenwriter wants to sell written work, they use a logline to pitch their project. As part of an elevator pitch, a logline is a short synopsis (25 to 50 words) of a book, film, or TV show. The most irresistible loglines get editors and producers to start reading – and in many cases, to get the project published or produced.
A successful logline is one that includes:
The main character
Their goal
The impediment to their goal (or antagonistic force)
If a reader knows that your work has a strong character and an interesting conflict, they are more likely to turn the page. Loglines should also use specific language when possible and avoid vague descriptions.
For example, this logline may not catch anyone's eye:
A boy and girl fall in love, but a tragic event changes their lives forever.
Adding important details makes your logline more intriguing. After including a setting, character names, and specific events, you've got a much stronger logline.
A young aristocrat falls for a scrappy artist aboard the main voyage of the Titanic. The looming tragedy will either be the end of their love story, or their struggle to survive will redefine love altogether. (Titanic, 1997)
Now that the executive reading your script knows more about the story, your work will stand out from hundreds of submissions. As in every form of writing, descriptive writing gets the reader's attention.
It's hard to believe that some of your favorite films started out as two-sentence loglines. Here are some effective loglines that went on to become popular movies.
Pulp Fiction (1994): The lives of two mob hitmen, a boxer, a gangster's wife, and a pair of diner bandits intertwine in four tales of violence and redemption.
Rear Window (1954): A wheelchair-bound photographer spies on his neighbors from his apartment window and becomes convinced one of them has committed murder.
Toy Story (1995): A cowboy doll is profoundly threatened and jealous when a new spaceman figure supplants him as top toy in a boy's room.
Although television shows produce a new script for every episode, the premise of the show itself began as a logline on a studio executive's desk. These loglines must make the show seem like it is worth a longer commitment than a two-hour movie. Check out these loglines for famous TV shows.
Arrested Development (2003): A young man leads his oddball family and their real-estate-development business following a securities-fraud fiasco that put the father in jail.
30 Rock (2006): The socially awkward head writer of a sketch comedy show must deal with an arrogant new boss and a crazy new star, all while trying to run a successful television show without losing her mind.
The Sopranos (1999): The capo of a New Jersey syndicate goes to a psychiatrist to deal with the changing nature of his business, a wife who no longer trusts him, kids who are growing up, and his murderous extended family.
Unlike movies or TV shows, books must have loglines that encapsulate both the story and the writer's perspective. A potential publisher wants to know that the writer can be succinct – but well-spoken – when necessary. These loglines from books illustrate the balance between these two demands.
The Hunger Games by Suzanne Collins: In a future North America, where the rules of Panem maintain control through an annual televised survival competition pitting young people from each of the twelve districts against one another, sixteen-year-old Katniss's skills are put to the test when she voluntarily takes her younger sister's place.
Where the Crawdads Sing by Delia Owens: A young woman living on her own in the coastal marshes of North Carolina becomes a murder suspect.
Dear Edward by Ann Napolitano: A twelve-year-old sole survivor of a plane crash struggles to find a place in a world without his family.
Treatments, taglines, and synopses are different kinds of summaries in the entertainment industry. While treatments and loglines should be irresistible to people who may produce your work, marketing departments use taglines and synopses to sell that work to an audience.
For example, here is a sample logline:
No one loves mountain climbing more than Kayla Morrison. But when a devastating injury threatens her chances of survival, Kayla must decide whether her passion is worth her life.
Now, see how it might compare to a tagline or synopsis of the same work.
Taglines are very short, catchy phrases that you'd typically see on a movie poster. Unlike loglines, taglines do not require mentions of character or conflict. They are only meant to grab a viewer's attention and make you want to start binging the show. Here a tagline for the same film:
Would you give up your dream if it meant saving your life?
Synopses are longer summaries of works that you may see on book jackets or DVD covers. These customer-facing descriptions use rich language to describe elements of the plot, setting, and additional character arcs. The synopsis for this movie or book might read as follows:
All her life, Kayla Morrison has wanted to climb the highest peaks in the world. Every time she scales a windy, wintry mountain, she thinks of her father, Larry, who gave her a love of climbing. His death on the face of Mount Hanabiko should have stopped Kayla from climbing forever, but she is even more determined to scale the rock that took her father's life.

As Kayla ascends Mount Hanabiko, her most difficult climb yet, she suffers a career-ending injury. Kayla must complete the climb by the end of the week or risk being trapped on the mountainside forever. She is forced to make the choice of her life: go back to base camp, or risk it all to get to the top.
A screenplay treatment is a one-page summary and/or outline of your script. It should cover each plot element almost like a short story. Readers will typically read your treatment after they have read a logline but before reading the entire screenplay.
Most screenwriting courses and books have advice for writing the perfect logline. While there are minor differences between these sources, the following logline tips are generally agreed upon in the screenwriting community.
Try writing the logline before you write your script or book. It's an effective way to focus your story and characters.
No spoilers! Don't give away the ending in your logline. You're selling the story, not telling it.
Focus on the conflict with the highest stakes. Avoid "meanwhile" statements.
Feel free to use puns or irony in your wording. Anything catchy (but not obnoxious) is effective.
Add character traits and flaws as descriptors. For example, "a shy, clumsy firefighter" is more interesting to imagine than "a firefighter."
You don't need to use character names unless you are writing about a real person or making a documentary.
Logline generators are helpful tools to get ideas and break writer's block (especially if you're looking for random writing prompts). However, once you learn the logline formula, you'll find that your ideas feel more creative and original than computer-generated sentences.
The logline is a helpful way to get your foot in the door. But the truth is, a well-written, character-driven story told in an interesting way will be a hit every time. Check out these tips for writing a great script, or read our article on how to write a best selling book.