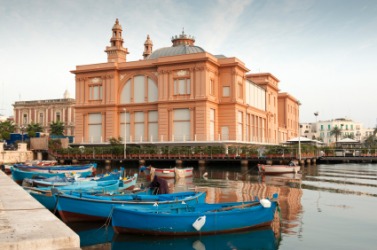 Boats tied up at a quay in Italy.
noun
The definition of a quay is a wharf or platform built into the water and used to load or unload ships or other sea vessels.

A concrete or stone dock for loading boats is an example of a quay.
---
quay
a wharf, usually of concrete or stone, for use in loading and unloading ships
Origin of quay
Middle English
kei
from Middle French
cai
from Celtic (as in Welsh
cae
and Breton
kai,
enclosure) from Indo-European base an unverified form
kagh-,
to enclose from source hedge: eastern; English spelling, spelled influenced, influence by French
quai
(OFr
cai
), of same origin, originally
---
quay
noun
A wharf or reinforced bank for the loading or unloading of ships or boats.
Origin of quay
Middle English
keye
from
Old North French
cai
of Celtic origin
quay
the Arsenale dockyard
Venice, Italy
---
quay

Noun
(plural quays)
(nautical) A stone or concrete structure on navigable water used for loading and unloading vessels; a wharf.
Verb
(third-person singular simple present quays, present participle quaying, simple past and past participle quayed)
To land or tie up at a quay or similar structure, especially used in the phrase "quay up".
Origin
From Old French kay, cail (modern French quai), from Gaulish cagiíum ("enclosure"), from Proto-Celtic *kagyom ("pen, enclosure") (compare Welsh cae ("hedge")).
---