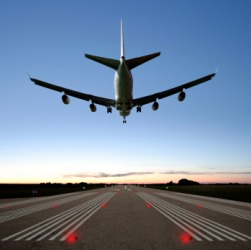 A jet coming in for a landing.
---
landing
noun
the act of coming to shore or of going or putting ashore
a place where a ship or boat takes on or unloads cargo or passengers
a platform at the end of a flight of stairs
the act of alighting, or coming to the ground, as after a flight, jump, or fall
---
landing
noun
a. The act or process of coming to land or rest, especially after a voyage or flight.

b. A termination, especially of a voyage or flight.

A site for loading and unloading passengers and cargo.
landings An amount of fish or shellfish harvested in a particular place during a particular period.

a. An intermediate platform on a flight of stairs.

b. The area at the top or bottom of a staircase.
---
landing
Noun
(plural landings)
coming to earth, as of an airplane or any descending object
a place on a shoreline where a boat lands
Verb
Present participle of land.
---