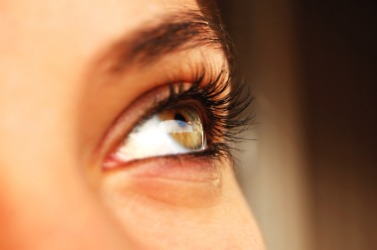 A woman's brow.
noun
The definition of brow means the eyebrow or forehead, or the top edge of a hill or cliff.

An example of a brow is the furry arch shape over an eye.
An example of a brow is the dangerous edge of a steep cliff on which to stand.
---
brow
the eyebrow
the forehead

Literary

a facial expression: her troubled brow
the projecting top edge of a steep hill or cliff
Origin of brow
Middle English
broue
from Old English
bru
from Indo-European base an unverified form
bhru-,
eyebrow from source Sanskrit
bhr?-h,
Old Norse
br?n
---
brow
noun
a. The superciliary ridge over the eyes.

b. The eyebrow.

c. The forehead.

A facial expression; countenance: "Speak you this with a sad brow?" ( Shakespeare )
The projecting upper edge of a steep place: the brow of a hill.
Origin of brow
Middle English
from
Old English
brū
; see
bhrū-
in Indo-European roots.
---
brow

Verb
(third-person singular simple present brows, present participle browing, simple past and past participle browed)
Origin
Middle English browe, from Old English brū, from Proto-Germanic *brūwō, from Proto-Indo-European *bhreu 'brow', *h₃bʰrúHs (cf. Middle Irish brúad, Tocharian B pärwāne 'eyebrows', Lithuanian bruvìs, Ancient Greek ὀφρύς (ophrus), Sanskrit भ्रू (bhrū)).
---