slope

slope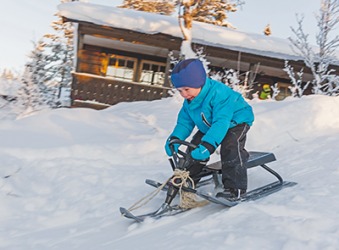 Charles sped down the slope on his snow scooter.
noun
Slope is defined as a surface where one end is higher than the other. It is also the difference in the angles of the surface.

An example of slope is the amount by which a surface veers downward.
verb
The definition of slope is to slant up or down, or to put something into a position where it slants up or down.

When a line goes from high to low, this is an example of slope.
---
slope
a piece of ground that is not flat or level; rising or falling ground; specif., a portion of the side of a hill or mountain: a ski slope
any inclined line, surface, position, etc.; slant

deviation from the horizontal or vertical
the amount or degree of this

Origin of slope

from the notion that the epicanthus of East Asians makes the eye appear slanted

Slang

a native of East Asia, often, specif., of Vietnam: an offensive term of hostility and contempt
the land area that drains into a given ocean

Math.

the trigonometric tangent of the positive angle formed between a given straight line and the x-axis of a pair of Cartesian coordinates
the slope of the tangent line to a given curve at a designated point
Origin of slope
Middle English from
aslope
, sloping (mistaken as
a slope
) from Old English
aslopen
, past participle of
aslupan
, to slip away from
slupan
, to glide: see sloop
intransitive verb
sloped

,

slop′ing
to have an upward or downward inclination; take an oblique direction; incline; slant

Chiefly Brit., Informal

to go or move (off, away, etc.), esp. in a leisurely or furtive way
Old Poet.
that slopes; slanting; inclined
the slopes
an area used or reserved for downhill skiing
---
slope
verb
sloped, slop·ing, slopes
verb
intransitive
To diverge from the vertical or horizontal; incline: a roof that slopes. See Synonyms at slant.
To move or walk: "Without another word he turned and sloped off down the driveway" ( Roald Dahl )
verb
transitive
To cause to slope: sloped the path down the bank.
noun
An inclined line, surface, plane, position, or direction.
A stretch of ground forming a natural or artificial incline: ski slopes.

a. A deviation from the horizontal.

b. The amount or degree of such deviation.

Mathematics

a. The rate at which an ordinate of a point of a line on a coordinate plane changes with respect to a change in the abscissa.

b. The tangent of the angle of inclination of a line, or the slope of the tangent line for a curve or surface.

Offensive Slang Used as a disparaging term for a person of East Asian birth or ancestry.
Origin of slope
Probably from
Middle English
aslope
sloping
Related Forms:
---
slope

Noun
(plural slopes)
An area of ground that tends evenly upward or downward.

I had to climb a small slope to get to the site.

The degree to which a surface tends upward or downward.

The road has a very sharp downward slope at that point.

(mathematics) The ratio of the vertical and horizontal distances between two points on a line; zero if the line is horizontal, undefined if it is vertical.

The slope of this line is 0.5

(mathematics) The slope of the line tangent to a curve at a given point.

The slope of a parabola increases linearly with x.

The angle a roof surface makes with the horizontal, expressed as a ratio of the units of vertical rise to the units of horizontal length (sometimes referred to as run).

The slope of an asphalt shingle roof system should be 4:12 or greater.

(vulgar, highly offensive, ethnic slur) A person of Chinese or other East Asian descent.
Verb
(third-person singular simple present slopes, present participle sloping, simple past and past participle sloped)
(intransitive) To tend steadily upward or downward.

The road slopes sharply down at that point.

To form with a slope; to give an oblique or slanting direction to; to incline or slant.

to slope the ground in a garden;   to slope a piece of cloth in cutting a garment

(colloquial, usually followed by a preposition) To try to move surreptitiously.

I sloped in through the back door, hoping my boss wouldn't see me.

(military) To hold a rifle at a slope with forearm perpendicular to the body in front holding the butt, the rifle resting on the shoulder.

The order was given to "slope arms".
Adjective
(comparative more slope, superlative most slope)
John Milton (1608-1674)

Down the slope hills.
Adverb
(comparative more slope, superlative most slope)
(obsolete) slopingly
---
slope - Computer Definition
---