bauble

bau·ble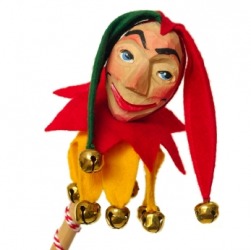 Baubles on a toy jester's hat.
noun
The definition of a bauble is a showy ornament or decoration of little value.

An example of a bauble is the colored bell that dangles from a jester's hat.
---
bauble
a showy but worthless or useless thing; trinket, trifle, etc.

Archaic

a jester's baton with an ornament at the end
Origin of bauble
Middle English
babel
from Old French
baubel, belbel,
probably reduplicated, reduplication of
bel
from Classical Latin
bellus,
pretty
---
bauble
noun
A showy, often inexpensive ornament, especially a piece of jewelry; a trinket.
A mock scepter carried by a court jester.
A shiny, spherical ornament, usually made of glass, used to decorate a Christmas tree.
Origin of bauble
Middle English
babel
from
Old French
plaything
---
bauble

---