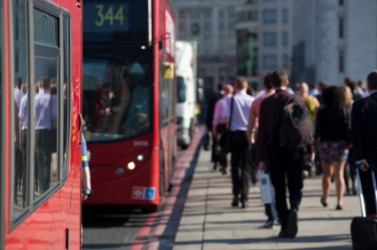 People taking the bus to commute to work.
verb
The definition of commute means to travel between home and work, or to change one thing for another.

An example of to commute is someone taking the bus from their house to their office.
An example of to commute is to reduce a one year jail sentence to time served.
---
commute
transitive verb
-·mut′ed

,

-·mut′ing
to change (one thing) for or into another; exchange; substitute
to change (an obligation, punishment, etc.) to one that is less severe
to substitute (payment in a lump sum) for payment in installments
Origin of commute
Middle English
commuten
from Classical Latin
commutare,
to change from
com-,
intensive +
mutare,
to change: see miss
to be a substitute
to make up; compensate

to travel as a commuter
---
commute
verb
com·mut·ed, com·mut·ing, com·mutes
verb
intransitive
To travel as a commuter: She commuted each day to her office downtown by subway.

a. To make substitution or exchange.

b. To serve as a substitute.

To pay in gross, usually at a reduced rate, rather than in individual payments.
Mathematics & Logic To satisfy a commutative property. If a × b = b × a, then a commutes with b, regardless of whether the operation indicated by × is commutative.
verb
transitive
To substitute (one thing for another); exchange.
To change (a penalty, debt, or payment) to a less severe one.
noun
An act or instance of commuting, especially the trip made by a commuter: a 22-mile commute; an easy commute.
Origin of commute
Middle English
commuten
to transform
from
Latin
commūtāre
com-
com-
mūtāre
to change
; see
mei-
1
in Indo-European roots.
---
commute

Verb
(third-person singular simple present commutes, present participle commuting, simple past and past participle commuted)
Noun
(plural commutes)
A regular journey to or from a place of employment, such as work or school.
The route, time or distance of that journey.
Origin
From Latin commūtō
See also:
commuté
---