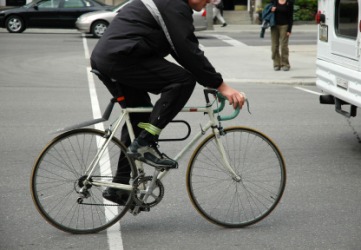 A commuter on a bicycle.
noun
The definition of a commuter is someone who travels between two points each day.

An example of a commuter is someone who rides their bike each day from their home to their office and then rides home.
---
commuter
a person who travels regularly, esp. by automobile, bus, train, etc., between two points at some distance from each other, esp. between a residence and a place of employment
of or for commuters or commuting: a commuter airline
---
commuter
noun
One that travels regularly from one place to another, as from suburb to city and back.
An airplane or airline that carries passengers relatively short distances and often serves remote communities and small airports.
---
commuter

Noun
(plural commuters)
(US, informal) A piece of transportation equipment used for the transportation of such persons.

He takes the commuter to headquarters at least once a week.
---