embarrassment

em·bar·rass·ment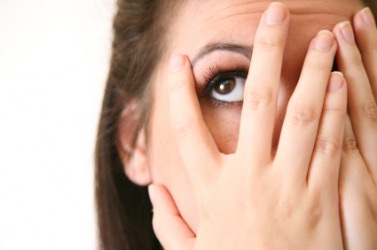 This woman seems to have suffered an embarrassment.
noun
Embarrassment is defined as a feeling of humiliation or shame, or a person or thing causing you to feel ashamed, or an abundance.

When you trip and a room full of people all start to laugh, this is an example of when you feel embarrassment.
When your child behaves horribly, refusing to listen in front of everyone, this is an example of when your child is an embarrassment.
When you have a large family that loves you, this is an example of an embarrassment of family love.
---
embarrassment
noun
The act or an instance of embarrassing: His embarrassment of the guests ended the party.
The state of being embarrassed: My face turned red with embarrassment.
A source or cause of being embarrassed: Your display of rudeness was an embarrassment to me.
An overabundance: an embarrassment of choices at a buffet dinner; an embarrassment of riches.
Financial difficulty: fell into financial embarrassment.
---
embarrassment

Noun
(plural embarrassments)
A state of discomfort arising from bashfulness or consciousness of having violated a social rule; humiliation.
A state of confusion arising from hesitation or difficulty in choosing.
A person or thing which is the cause of humiliation to another.

Kevin, you are an embarrassment to this family.
Losing this highly publicized case was an embarrassment to the firm.

(medicine) Impairment of function due to disease: respiratory embarrassment.
---