noun
The definition of a manicure is a cosmetic treatment where your hands are pampered and your nails are cut, groomed and may be polished.

When you go to the salon and your hands are soaked in a paraffin bath, then massaged before your nails are clipped and polished, this is an example of a manicure.
verb
To manicure is defined as to trim gardens or lawns neatly or professionally, or to perform a treatment where you pamper someone's hands and cut and polish his or her nails.

When a gardener comes and neatly trims the lawn, this is an example of a time when the gardener manicures the lawn.
When you cut someone's nails and polish them, this is an example of a time when you manicure.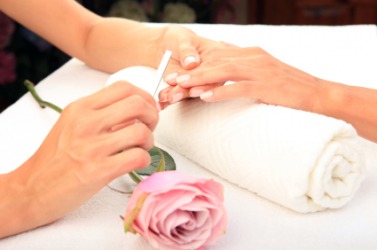 A woman receiving a manicure.
---
manicure definition by Webster's New World
noun
a trimming, cleaning, and sometimes polishing of the fingernails, esp. when done by a manicurist
Origin: French ; from Classical Latin manus, a hand plush cura, care: see cure
transitive verb
manicured, manicuring
to trim, polish, etc. (the fingernails)
to give a manicure to

Informal

to trim, clip, etc. meticulously: to manicure a lawn
Webster's New World College Dictionary Copyright © 2010 by Wiley Publishing, Inc., Cleveland, Ohio. Used by arrangement with John Wiley & Sons, Inc.
---
manicure definition by American Heritage Dictionary
noun
A cosmetic treatment of the fingernails, including shaping and polishing.
transitive verb
man·i·cured
,
man·i·cur·ing
,
man·i·cures
To trim, clean, and polish (the fingernails).
To clip or trim evenly and closely: manicure a hedge.
Origin: French : Latin manus, hand; see man-2 in Indo-European roots + Latin cūra, care; see cure.