noun
The definition of a canopy is a roof like covering or anything that seems to cover.

An example of canopy is a thick forest that the sun doesn't shine through onto the ground below.
An example of canopy is the fabric cover being held by a post at each corner above a bed.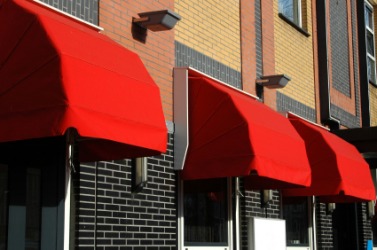 Windows with red canopys.
---
canopy definition by Webster's New World
noun
pl.
canopies
a drapery, awning, or other rooflike covering fastened above a bed, throne, etc., or held on poles over a person or sacred thing
a structure of canvas on a framework sheltering an area or forming a sheltered walk to the entrance of a building
anything that covers or seems to cover like a canopy, as the sky
the transparent hood over an airplane cockpit
the part of a parachute that opens up and catches the air
a rooflike projection over a door, pulpit, etc.
the uppermost leafy level of a forest
Origin: Middle English canape ; from Midieval Latin canapeum ; from Classical Latin conopeum ; from Classical Greek kōnōpeion, couch with mosquito curtains, diminutive of kōnōps, gnat
Webster's New World College Dictionary Copyright © 2010 by Wiley Publishing, Inc., Cleveland, Ohio. Used by arrangement with John Wiley & Sons, Inc.
---
canopy definition by American Heritage Dictionary
noun
pl.
can·o·pies
A covering, usually of cloth, suspended over a throne or bed or held aloft on poles above an eminent person or a sacred object.
Architecture An ornamental rooflike projection over a niche, altar, or tomb.
A protective rooflike covering, often of canvas, mounted on a frame over a walkway or door.
A high overarching covering, such as the sky: "I just look up at the stars and let the vastness of that black and twinkling canopy fill my soul" (Margaret Mason).
The uppermost layer in a forest, formed by the crowns of the trees. Also called crown canopy.
The transparent enclosure over the cockpit of an aircraft.
The part of a parachute that opens up to catch the air.
transitive verb
can·o·pied
,
can·o·py·ing
,
can·o·pies
To cover with or as if with a canopy.
Origin: Middle English canape, from Medieval Latin canāpēum, mosquito net, from Latin cōnōpēum, from Greek kōnōpeion, bed with mosquito netting, from kōnōps, kōnōp-, mosquito.