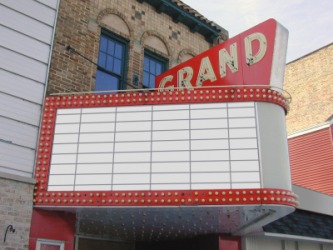 A blank movie theater marquee.
noun
The definition of a marquee is a sign outside or above a theatre that is often lighted.

An example of a marquee is a sign outside a theater that tells passersby what is playing.
---
marquee
Chiefly Brit.

a large tent with open sides, esp. one used for some outdoor entertainment
a projecting, rooflike structure or sign over the entrance to a theater or other entertainment venue advertising information about current or upcoming attractions
Origin of marquee
false singular from French
marquise
(misunderstood as plural ), an awning, canopy over an officer's tent, literally , marquise: reason for name uncertain
Informal
so well-known or well-publicized as to attract large audiences:
a marquee event, marquee ballplayer
---
marquee
noun
A large tent, often with open sides, used chiefly for outdoor entertainment.
A rooflike structure, often bearing a signboard, projecting over an entrance, as to a theater or hotel. Also called marquise .
adjective
Exceptionally popular or skilled: The team is hoping to sign a marquee player.
Origin of marquee
French
marquise
marquise, marquee
; see
marquise
.
marquee
---
marquee

Noun
(plural marquees)
(UK, New Zealand) A large tent with open sides, used for outdoors entertainment.
(US) A projecting canopy over an entrance, especially one with a sign that displays the name of the establishment or other information of it.
(US) By generalization, used for lights that turn on and off in sequence, or scrolling text, as these are common elements on a marquee.
(computing) In graphical editing software, a special selection tool, used to highlight a portion of an image.

Rectangular Marquee Tool
---