recuperate

re·cu·per·ate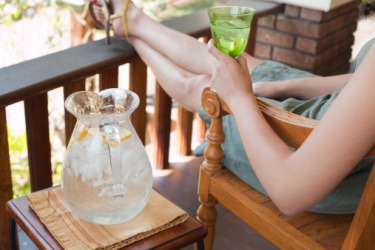 A relaxing Saturday afternoon spent sipping ice-cold lemon water on the front porch allows Cheryl to recuperate after a stressful work week.
verb
To recuperate is to get better after an illness, to recover after exertion, or to get back something that was lost.

When you have surgery performed and you then have to stay in bed for two weeks and rest, this resting period is an example of a time when you recuperate.
When you go on vacation to rest and relax after working very hard on a project, this is an example of a time when you recuperate.
---
recuperate
transitive verb
-·at·ed

,

-·at·ing
to get back, or recover (losses, health, etc.)
Origin of recuperate
from Classical Latin
recuperatus,
past participle of
recuperare,
to recover: akin to
recipere,
to bring back, recover: see receive
to be restored to health, strength, etc.; get well again; recover
to recover losses, etc.
---
recuperate
verb
re·cu·per·at·ed, re·cu·per·at·ing, re·cu·per·ates
verb
intransitive
To return to health or strength; recover.
To recover from financial loss.
verb
transitive
To recover (a financial loss).
Origin of recuperate
Latin
recuperāre
recuperāt-
re-
re-
capere
to take
; see
kap-
in Indo-European roots.
Related Forms:
re·cu′per·a′tive re·cu′per·a·to′ry

adjective
---
recuperate

Verb
(third-person singular simple present recuperates, present participle recuperating, simple past and past participle recuperated)
(sociology) To co-opt subversive ideas for mainstream use
Origin
From Latin recuperātus, from recuperāre ("to get again, regain, recover, revive, restore, Medieval Latin also intransitive revive, convalesce, recover"), present active infinitive of recuperō.
---