recumbent

re·cum·bent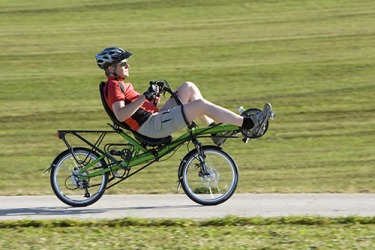 Jim always wears his helmet when he rides his recumbent bike .
adjective
The definition of recumbent is a person or thing lying down or resting.

An example of a recumbent position is someone swinging in a hammock with their eyes closed.
An example of a recumbent bike is a bike where someone sits down and leans back while peddling the bike.
---
recumbent
lying down; reclining; leaning
resting; idle

Biol.

designating a part that leans or lies upon some other part or surface
Origin of recumbent
Classical Latin
recumbens,
present participle of
recumbere
from
re-
, back +
-cumbere;
akin to
cubare,
to lie down: see cube
---
recumbent
adjective
Lying down, especially in a position of comfort or rest; reclining.
Resting; idle.
Biology Resting on the surface from which it arises. Used of an organ or other structure.
noun
A recumbent bicycle.
Origin of recumbent
Latin
recumbēns
recumbent-
present participle of
recumbere
to lie down
re-
re-
cumbere
to lie
Related Forms:
re·cum′bence re·cum′ben·cy

noun
---
recumbent

Origin
From Latin present participle recumbens, from verb recumbere
---