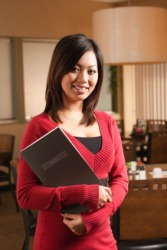 A maitre d'hotel.
adjective
Maître d'hôtel is defined as a sauce made from parsley, lemon juice, salt, pepper and melted butter.

An example of maître d'hôtel used as an adjective is "maître d'hôtel butter" which is often placed on broiled meat or as a simple sauce for pasta.
noun
The definition of a maître d'hôtel is a headwaiter or host.

An example of a maître d'hôtel is the individual who decides where the customer will sit and takes them to their table at a restaurant.
YourDictionary definition and usage example. Copyright © 2018 by LoveToKnow Corp
Link to this page
Cite this page
MLA Style
"maître d\'hôtel." YourDictionary, n.d. Web. 07 December 2018. <https://www.yourdictionary.com/ma-itre-d-h-otel>.
APA Style
maître d\'hôtel. (n.d.). Retrieved December 07th, 2018, from https://www.yourdictionary.com/ma-itre-d-h-otel
---